The Computer Officers use WPKG to automatically manage software installations on some managed Windows computers. If you have seen a screen like the one below pop up when you shutdown or reboot your computer, WPKG is used to manage software on your computer.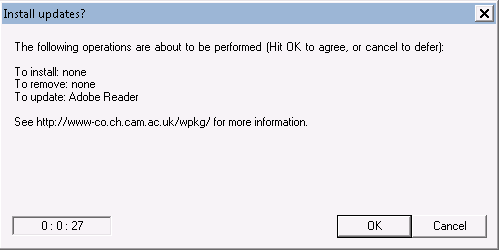 The dialog box will tell you what actions are going to be performed:
If you click OK, or if you don't respond within 20 seconds, the listed modifications will be made, and another window will then pop up so you can see what progress is being made.

If you click Defer(for example, because you want your computer to reboot quickly and wish to defer a large software installation until later), the same message will pop up the next time you shutdown or reboot your computer.
Enabling WPKG
If you would like to have software installed on your managed Windows computer, please email support@ch.cam.ac.uk and tell us the name of your computer and which software you would like to be installed.
Available packaged software
A list of all available packaged software is available here - please note that some of the listed software will require you to possess a valid license.
Installing or removing software
If you are a group computer rep, or you are the registered user of the computer, you can visit apps.ch.cam.ac.uk/wpkg to add and remove software from your computer. We are happy to receive requests for new software packages - if you would like to install software that is not available at this list, please contact us with your request.
End users are only able to control software which is either free or site-licenced; if you have a query regarding software that requires individual licenses please contact the Computer Officers.