The following screenshots/instructions were written for Ubuntu 14.04, but should require little or no modification for any Linux computer which uses Network Manager.
Collecting your token
To connect a personal device to ChemNet you will need some ChemNet credentials (ChemNet identifier and ChemNet token). You can get your personal token from https://apps.ch.cam.ac.uk/ssms/collectchemnet if you know your Raven password and are registered in the department database. If instead you want to connect a shared device (eg a lab computer) to the network please get your group computer rep to register the device.  
Connecting to ChemNet
Plug the machine into a live network socket and turn off its WiFi if it has any
From the System Tray, click Network Manager.
Click Edit Connections:
In the Network Connections window, click the connection you want to use for ChemNet. Normally it is under Ethernet and called something like Wired Connection or Auto Ethernet. Click Edit.​
Click on the 802.1x Security tab
and set the following values:

Use 802.1x security for this connection: ticked
Authentication: Protected EAP (PEAP)
Anonymous identity: @ch.2021.cam.ac.uk (please note: not @cam.ac.uk)
CA Certificate: (see below)
PEAP version: Automatic
Inner authentication: MSCHAPv2
Username: The ChemNet identifier
Password: The ChemNet token


Click on CA Certificate and browse to /etc/ssl/certs
Select Comodo_AAA_Services_root.pem and click Open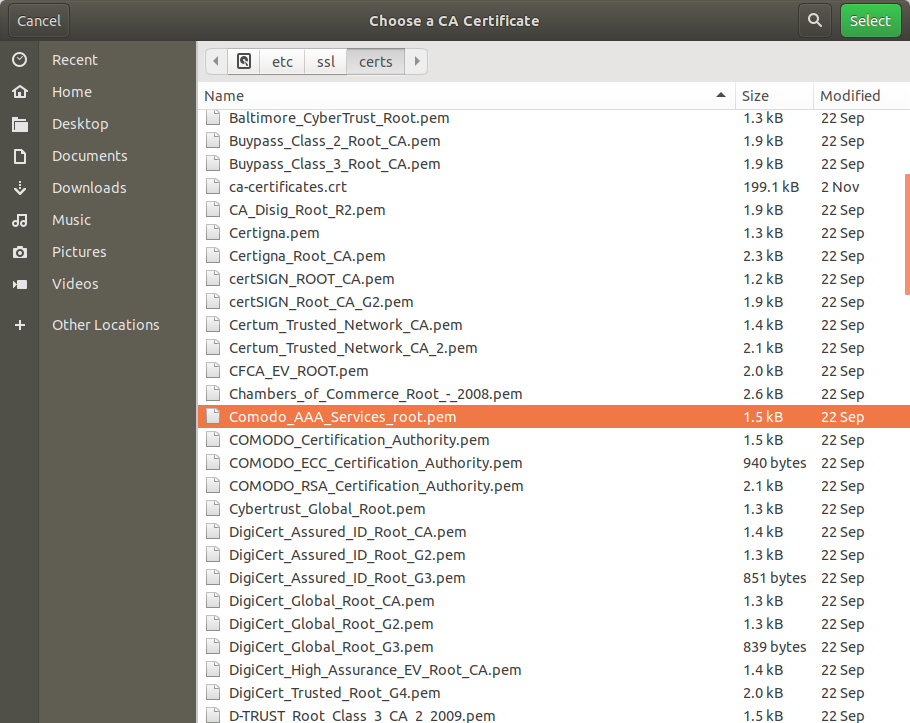 ​
Click Save to save the settings. Your machine should now connect to the network, but if it does not try unplugging and replugging the network lead.