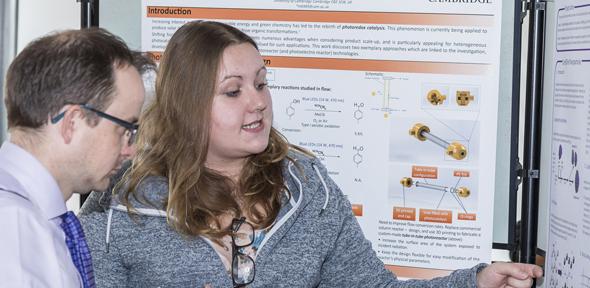 Chemistry in Cambridge supports fundamental science of the highest quality in a first-class environment
We are a world-class teaching and research centre recognised for our exceptional record in discovery, innovation and excellence. Our work has relevance to a broad range of real world challenges and industrial applications such as drug discovery, oil recovery, ageing, energy research, fuel cells and batteries, synthetic medicine, computer memory and sensors. 
Our department, part of the School of Physical Sciences, hosts around 200 postdoctoral research staff, over 250 postgraduate students, and around 60 academic staff, including newly independent researchers.
Studying and working in the Department of Chemistry
We aim to recruit the highest quality undergraduate and postgraduate students, postdoctoral researchers (postdocs) and academic staff.
Research
This department is home to a large number of internationally-recognised research groups. Our enthusiastic research culture embraces new challenging areas, including strong collaborations with other academic disciplines and institutions, while maintaining a powerful presence in the traditional core areas of chemistry. We broadly define our work according to five core research areas:
The Chemistry Department has internal and external collaborations with other Cambridge University departments, universities and industry. To find out more about some of these collaborations, please follow the links on the right.
Collaborative research areas
We have three strategic collaborative research areas:
Chemistry of Health: Advancing the understanding of health and disease in a number of areas that are of global importance: these include ageing, cancer and infection.
Sustainable Energy, Environment and Climate: Increasing understanding of the impact of chemical processes on the environment and to develop sustainable energy systems.
Innovative Molecular and Materials Design:  Transforming the development and assembly of important functional chemicals to produce high-value products in health care, agriculture, energy and consumer goods.
If you are interested in collaborating with the department and would like to find out more about working with us, please contact our Knowledge Transfer Facilitator, Dr Yolande Cordeaux, at yc265@cam.ac.uk, who would be happy to provide further information.