The following screenshots/instructions were written for Ubuntu 14.04, but should require little or no modification for any Linux computer which uses Network Manager.
Collecting your token
To connect to ChemNet you will need your ChemNet credentials (crsid and ChemNet token). You can get your token from https://apps.ch.cam.ac.uk/ssms/collectchemnet if you know your Raven password and are registered in the department database. 
Connecting to ChemNet
From the System Tray, click Network Manager.
Click Edit Connections:
In the Network Connections window, click Add:
From the Choose a Connection Type window, select Wi-Fi and click Create:
In the Editing ChemNet window, in the Wi-Fi tab, enter the following settings:

Connection Name: ChemNet
SSID: ChemNet
Mode: This should generally be left at the default setting. Depending on the version of your operating system, this might be Infrastructure or Client.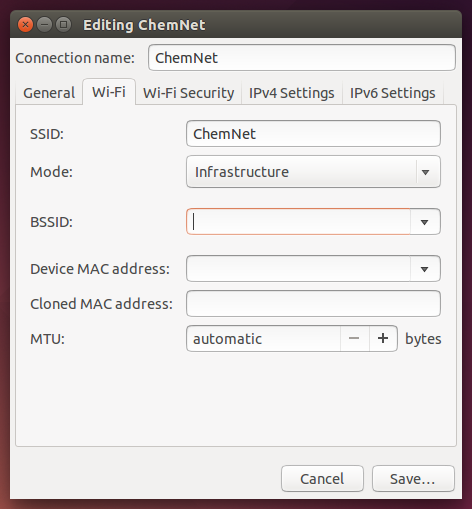 Select the Wi-Fi Security tab and set the following values: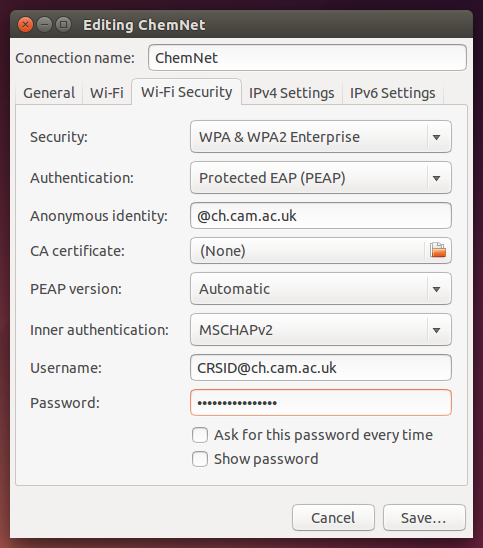 Click on CA Certificate and browse to /etc/ssl/certs
Select AddTrust_External_Root.pem
Select the IPv6 Settings tab.
From Method, select Ignore.
Click Save.
From the System Tray, click Network Manager
Select the ChemNet SSID, which will now connect.