Availability:
ChemOffice+ Cloud 21.0 (previously known as ChemOffice Professional) is now available to download for members of the university.
ChemOffice+ Cloud 21.0 is now available on managed Windows workstations in the department through WPKG.
Instructions for users:
Installation on a managed Windows machine
If you use a Windows machine managed by the department, you should use WPKG to install the software. Activation should occur automatically on first use.
Installation on a single unmanaged Windows machine
To install ChemOffice, download the installer following the instructions in the Downloading Software section below and note where you have saved it to.

Locate and run the installer, following the on screen instructions.
Once you have finished the installation, you will need to enter the ActivationCode you obtained by following the instructions in the ActivationCode section below. You are NOT allowed to distribute these details to anyone else, ever.
Once you have done this, you should be able to start ChemOffice.
Downloading the Software
Obtaining the Activation Code
Newer versions (2017 and up)
To get the activation code log into Perkin Elmer's Flexnet page at https://informatics.perkinelmer.com/sitesubscription/Register.aspx?Flexe... to Order History on the left of the page. You should see a list of versions we have purchased. Click on the entry 'ORD37987SL' to find the activation code at the right-hand side of the page. Do not share this code with anyone else.
Older versions (2016 and below)
When you have downloaded the software, for older versions, you should be able to obtain your serial numbers by going to the PerkinElmer/Cambridgesoft site and looking under the Downloads section.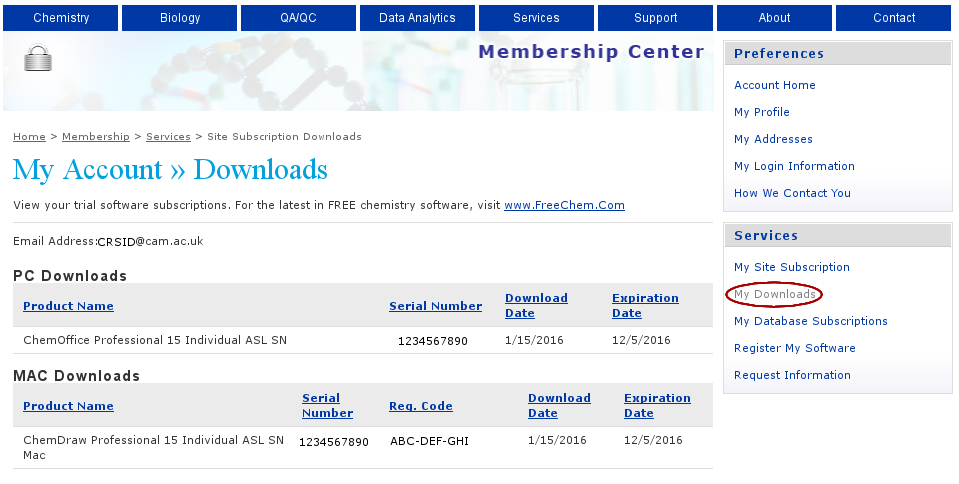 When you download the software PerkinElmer do NOT send the serial numbers by email.
Installation on a single Mac machine
You are NOT allowed to redistribute these files under any circumstances, ever.
Download the installer following the instructions in the Downloading Software section above and note where you have saved it to.
Locate and double click on the installer. You should see the following screen.
Drag the ChemOffice icon to the Applications folder.
Optionally drag the ChemDraw Plugin Pro icon to your Internet Plugins folder. This can be found inside your ~/Library folder. On MacOS 10.7 and above the ~/Library Folder is hidden by default. You can access it by using the Go menu in Finder while holding down the Alt key. This article has more details.
Note the registration code and serial number from following the instructions in the Serial Numbers section above. You are NOT allowed to distribute these details to anyone else, ever.
Next the registration window will appear. Enter the serial number and registration code from the previous step.
Click Finish