Dr Richard M. Parker graduated from the University of Southampton (UK) with a MChem degree in 2007, followed by the award of a Ph.D. in Chemistry in 2011. His Ph.D. studies formed the basis of a new interdisciplinary collaboration between Dr Martin Grossel (Chemistry) and Prof Peter Smith (Optoelectronics Research Centre) that centred on the development of a photonic sensor platform for "lab-on-chip" applications. This focused on embedding a photonic Bragg grating refractometer within a microfluidic network and modifying the sensor surface using supramolecular/polymer chemistry to develop highly-sensitive, chemically-specific sensors. After completion of his doctoral studies, he continued researching in the fields of photonic sensors, fibre optics and supramolecular chemistry at the University of Southampton until 2012.
Richard is currently a senior postdoctoral research associate at the University of Cambridge (UK), where he exploits self-assembly within microfluidically-templated droplets to prepare novel material architectures; with interests ranging from supramolecular microcapsules (Adv Funct Mater 2015) and gels (JACS 2015), to bio-inspired photonic microparticles (ACS Nano 2016 & 2019) and structurally-coloured films (Adv Funct Mater 2019).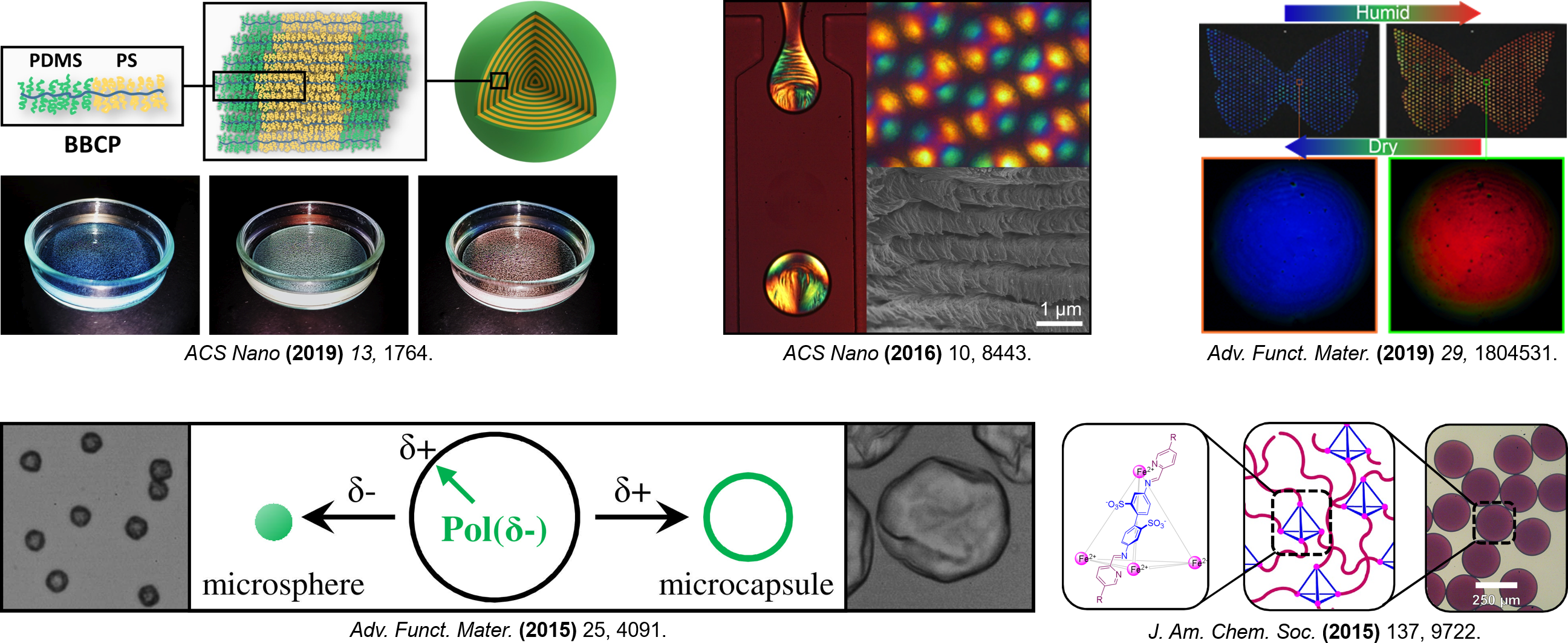 Recent Advances in Block Copolymer Self-Assembly for the Fabrication of Photonic Films and Pigments
– Advanced Optical Materials
Mechanochromic, Structurally Colored and Edible Hydrogels prepared from Hydroxypropyl Cellulose and Gelatin
Angular-Independent Photonic Pigments via the Controlled Micellization of Amphiphilic Bottlebrush Block Copolymers.
Visual Appearance of Chiral Nematic Cellulose-Based Photonic Films: Angular and Polarization Independent Color Response with a Twist.
– Advanced materials (Deerfield Beach, Fla.)
Controlling the Self-Assembly Behavior of Aqueous Chitin Nanocrystal Suspensions
Hierarchical Photonic Pigments via the Confined Self-Assembly of Bottlebrush Block Copolymers.
Printing of Responsive Photonic Cellulose Nanocrystal Micro-Film Arrays
– Advanced Functional Materials
Hierarchical self-assembly of cellulose in a confined geometry
– ABSTRACTS OF PAPERS OF THE AMERICAN CHEMICAL SOCIETY
The Self-Assembly of Cellulose Nanocrystals: Hierarchical Design of Visual Appearance
Cucurbit[$n$]uril-Based Microcapsules Self-Assembled within Microfluidic Droplets: A Versatile Approach for Supramolecular Architectures and Materials
– Accounts of chemical research