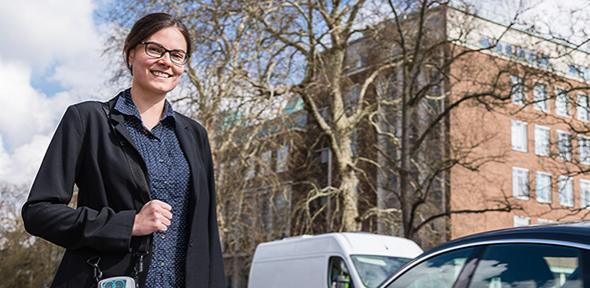 The impact of air pollution on human health is what Anika Krause, a PhD candidate in our Atmospheric Chemistry Research Group, is studying. She discusses how it's made her more aware of what's in the air we breathe.
My father first encouraged my interest in science.
He's very good with his hands and did everything around our house himself, such as putting in the plumbing and electrics. So he understands the physics of how things work, even though he is not a scientist. (He's a driving instructor: he and my mother grew up in East Germany where there was not a great choice of jobs for people.) I think hearing my dad explaining such things to me when I was young helped promote my interest in science.
In high school I was good at both science and languages.
But when I was choosing what to study, my parents really encouraged me into science. (My mother had wanted to be a pharmacist when she was young, but wasn't allowed.) At the time, I loved Latin as much as maths and science, but they advised me that science would offer far more job opportunities.
I've always been interested in environmental issues.
So while I was doing my Master's in Germany, I looked for a research project to link my environmental interest with my chemistry studies. When I read about Professor Rod Jones's Atmospheric Chemistry Research Group here in Cambridge, I asked if I could join it for six months as a visiting student. Rod said yes. I felt very welcome within the team and enjoyed the research project I worked on so much I decided to stay on and apply for a PhD. I am now in my third year, working with wearable personal air-quality monitors.
We are using these sensors to accurately measure people's exposure to polluting gases and particles in the air at high spatial and temporal resolutions, outdoors and indoors. This will help us to provide reliable evidence about the harmful impact of airborne pollutants on people's health. Part of my work is to characterise the performance of these monitors — including the evaluation of detection limits, temperature or humidity effects, and cross interferences with other air pollutants.
I needed funding to support me through my PhD.
I am the first holder of the Sheldrick Scholarship in Chemistry at Jesus College. When I first heard about it — a Chemistry scholarship that had just been created specifically for students who had recently completed their MSc degree at a German university — it was so perfect for me, I didn't quite believe it was real at first. I thought someone was making it up!
Later, I was able to meet the donor, Mr John Sheldrick, when he visited Jesus College.
Like his older brothers George and William, he studied Natural Sciences at Jesus. It was a pleasure to meet him. He asked how I was getting on with my research, whether I still enjoyed what I was doing (which, he emphasized, was most important), and if everything was working out alright with the scholarship. I am very grateful to him.
The downside to studying air pollution is that it makes you hyper-sensitive about what you breathe.
If I go into a metro now, I feel as though I can't breathe because I'm so aware of the dirt in the air. It's the same when I'm cycling through Cambridge and end up following a bus. I'm more aware of the pollutants in the air and how much pollution changes locally.
The upside is that I love to travel and my research gives me that opportunity.
As an undergraduate, I went on a research trip to Brazil, a country I loved, and later on did research projects in Italy and Japan. These experiences increased my passion for different cultures, helped me become more independent and showed me different research environments.
Here I work on the AIRLESS project.
It's part of an international multi-university programme on Atmospheric Pollution & Human Health in a Chinese Megacity. This aims to identify the concentrations and sources of urban air pollution in Beijing, as well as how people are exposed and how it affects their health. I've been out to Beijing twice to do project field work. I visited a semi-rural area on the city's outskirts where because people are poor, they cook on open fires made from any waste plastic or rubbish they can find. As a result, levels of indoor air pollution are extremely high.
The villagers were sceptical at first about what we were doing – we looked rather exotic to them and there was quite a communications barrier. Nevertheless, we were warmly welcomed. One family gave me some of their home-grown fruit and vegetables, which were delicious. But at another meal, I was given Durian fruit. It stinks like rotten meat and made the room smell badly for ages afterwards!
In future, I hope to work in environmental protection.
Last summer I went to Berlin to measure people's exposure to air pollution. I joined a research project with the Federal Environmental Agency, partly to find out what it would be like to work for them. But I also did my own research, wearing my own personal air-quality monitor while sitting in metro stations. When I saw the results afterwards, they were super interesting: every time a train came in, there were peaks as the particle concentrations in the air shot up. (That's because the train pushes the air from the tunnel out into the station). And every time a train left, the concentrations fell again as the departing train sucked in fresher air from the exits.
I don't feel I've ever been badly treated as a woman in science.
At least, not that I'm aware of. But I appreciate the way the University of Cambridge supports women (and postgrads generally) by offering courses in professional development. These have given me more confidence and will help me in future when I'm going for jobs or negotiating a salary. I'm more aware now that I should be assertive and ask for what I think I deserve.
John Sheldrick set up the Sheldrick Scholarship partly in memory of his late brother William, who received his PhD in Inorganic Chemistry here and subsequently moved to Germany, where he became Professor of Analytical Chemistry at the Ruhr University Bochum in 1989. We know some of our alumni also recall John's oldest brother George, a demonstrator and lecturer here from 1966 to 1978.  John says: "George became a fellow of Jesus College and was given his University appointment at a very young age. When I came up to the college in 1967 (and my brother William was doing his PhD), George did the tutorials in Chemistry for me and the other Jesuan Natural Sciences students in my year. He left Cambridge to become Professor of  Structural Chemistry at Göttingen University in 1978. He is very well known internationally and still active as an emeritus professor."
To find out more about setting up a Studentship in Chemistry at your own college, please contact: chemhod@hermes.cam.ac.uk