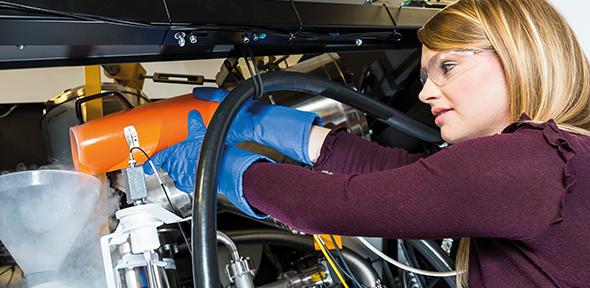 Our long-awaited new Transmission Electron Microscope arrived here (in 17 separate crates) in July. And now our Electron Microscopy Technical Officer Dr Heather Greer is delighted. Or rather, she would be – she says – if only the emails would stop and she could just spend all day using it...
How did you get into this field?
I was only ever interested in science and maths and always wanted a career in science. At school, I thought about being a radiographer or a pharmacist. And when I was at university (St Andrews) studying chemistry and maths, I assumed I would go into industry – probably oil, as my family had moved from Northern Ireland to Scotland and we were living between Aberdeen and Dundee.
I started working in microscopy during my final year project for my undergraduate degree. It was my first real taste of research and I found I liked it. So I decided to do a PhD on non-classical crystal growth mechanisms because I wanted to carry on working in electron microscopy. I stayed on for three years'  postdoctoral research and by then, as well as working on my own projects, I was also running a lot of samples on the Transmission Electron Microscope (TEM) for others in the department and collaborators. I found myself preferring the diversity of everyone else's samples to my own. That made me realise the perfect job for me was to manage my own research facility where I would see the whole range of samples coming in and learn why people were running them.
What brought you here?
I started looking for jobs in this field and found the role here in Cambridge. And I really enjoy it. I manage the lab and train the users, making sure they are getting everything the instruments are capable of and that they understand the data that comes out.
Most users start by scanning the surface of their sample with the Scanning Electron Microscope (SEM), manipulating the energy of the electron beam depending on what they want to see – be it particle size, morphology or z-contrast if it's a multi-phase sample. There's also an EDX (energy dispersive x-ray spectroscopy) detector to find chemical maps and spectra. If the SEM doesn't provide the resolution or information our researchers need, then for much smaller materials, such as those working at 50 nanometres or less, we can use the TEM to push the resolution so we can see atomic images.
Are there other Transmission Electron Microscopes within the University?
Yes, but very few of them are multi-purpose. Our new TEM provides the resolution and sensitivity to characterise hard and soft materials so, as well as impressive atomic imaging capabilities, it is also equipped with EDX, tomography and Electron Energy Loss Spectroscopy – which our battery researchers are very excited about using in order to detect and map Lithium.That's something we couldn't previously do. And our cryo holder will be in large demand by researchers looking to view their nanomaterials in frozen hydrated state.
There's a great electron microscopy community here. There are about 40 electron microscopes in Cambridge University and the staff managing the labs meet up from time to time, hold seminars and hear about the different experiments we're all doing. We support each other. Though there's some friendly rivalry too...
What's the best part of your job?
When I arrived here, a little over two years ago, the SEM was older than me (!) and the TEM had good and bad days, to put it kindly. Both instruments desperately needed replacing. I led the purchase on both of them, so we now have state-of-the-art equipment to use and the lab looks completely different from the way it did when I arrived. That gives me a real sense of achievement.
And the worst part?
All the emails. I'd far rather just be on the instruments all day and not have to deal with any emails at all.
How did you find buying the microscopes?
A baptism of fire! The department had the money to purchase a new SEM, so one of my very first jobs here was to start negotiations with prospective suppliers, see product demonstrations and then choose which instrument we would buy. I had only just arrived and was still meeting all the research groups, trying to understand from each what their speciality was and what their needs were. Suddenly it was my responsibility to buy an instrument that would make them all happy.
Buying the TEM, which we were able to do thanks to a generous multi-user facility grant from the EPSRC, was easier for me as it was my second time around. But the amount of money and responsibility involved was scary. It gave me quite a few sleepless nights.
And now it's here?
It arrived in 17 crates and took 11 weeks to install. But now it's finally up and running and we've been trained on it, it feels like my baby. I am very protective of it.
Do you enjoy training people to use it?
Yes. I see a range of people, from those who know very little about electron microscopy to those who have a real passion for using it. They challenge you and that's good. I'm always up for a challenge.
Most of your peers in the university are male. Has being a woman ever impeded you in your career?
No. Though there are a few other female facility managers, the majority are men. But that's never been an issue. I think we all are treated equally and I've never had an advantage or disadvantage because of it.
Why do you describe yourself as 'the black sheep' of your family?
It's not literally true, obviously! But no-one else in my family works in science. They are all in farming and my twin sister is a police officer. I don't think my relatives really know what I do, beyond the fact that it involves some kind of microscope...