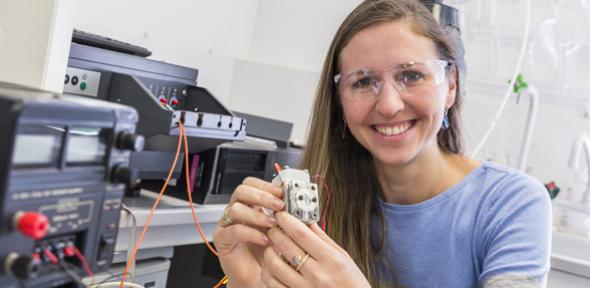 Dr Tanya Hutter, Henslow Research Fellow, Darwin College
Tanya Hutter completed her PhD in 2013 under the supervision of Professor Stephen Elliott. Three years on Dr Hutter is a Henslow Research Fellow at Darwin College, a postdoctoral researcher in the department, and director and co-founder of her own company, SensorHut.  Tanya recently returned to work after her second child, at the head of a major clinical sensor development project. 
Tanya arrived in Cambridge, with a BSc in chemical engineering from Ben-Gurion University and an MSc in materials science and engineering specialising in optical sensing, during this time she published four papers, filed one patent and finished first in her class with distinction. "This is what gave me the confidence to apply for Cambridge. Two years before I couldn't think about doing a PhD or studying at Cambridge.  I was very lucky to get a full scholarship from Trinity College, which allowed me to come to Cambridge. When I started for my PhD I was very excited, I wanted to do optical waveguides, I wanted to do plasmonics, I wanted to do nanotechnology, microfluidics and chemical sensors, it was so much fun," said Tanya.
Tanya joined Professor Stephen Elliott's group in 2009 but took six months out of her research to have her first child, a daughter. However, she still managed to publish 14 papers and complete her PhD without an extension period. It was during her graduate studies that she had the idea for SensorHut.
SensorHut
"As it wasn't really part of my research I decided to leave the idea in my head and not do anything with it," she says.  PhD complete, it was Tanya's husband Dan who reignited the start-up idea when he suggested the family move to London.  "I thought, 'we can't just move to London, what would I do, what about my daughter? No. I'll stay in Cambridge to continue my research and explore the business potential for my start-up idea.' I joined the Accelerate Cambridge programme at the Judge Business School where I gained the skills in commercialisation and business development."
SensorHut was founded in late 2013 in order to commercialise a new chemical sensing technique based on the principles of optical absorption.  The company's aim is to provide more accurate measurement of volatile organic compounds in applications ranging from the monitoring of industrial processes to medical diagnostics.
New research
Tanya's new project in the department has secured transitional funding from NIHR (National Institute for Health Research). The aim is to develop a real-time online sensor, which can measure molecular changes of acute head injury patients. "I really enjoy doing science and the idea of translating it into products. I'm using microfluidics, optics and chemistry. These days if you're in chemistry it doesn't mean that you have to do only chemistry - this is what's great about multidisciplinary science. I want to take research and make devices; this is what I'm really excited about. I find it very interesting when someone comes with a challenging problem that could be solved by combining different disciplines. I want to be in that gap between commerce and academia."
Motherhood
When Tanya had her first child, Anna, some of her friends were shocked but Tanya sees it differently. "Back then people thought I was crazy. They said  'Why are you having a child now? Finish your PhD and then have a child.' I wish I'd had two during my PhD.  It was more relaxing, you can have time off during your PhD and go back to your research project. Now I have several collaborative projects running and I cannot just stop, if I'm gone for six months or more it will have a significantly damaging effect on everything I've worked so hard to achieve."
I'm trying not to let motherhood affect my career. I've done everything I can. I work twice as hard so I can be at the same level as people who don't have kids. Women are competing with their male colleagues for the same job opportunities. I cannot say, in an interview, I'm a mother so I have only one paper – no excuses.  You know when they look at you they don't care how many children you have. I probably won't know the effects of motherhood on my career until I'm coming out at the other end. Here's hoping the effects are positive."