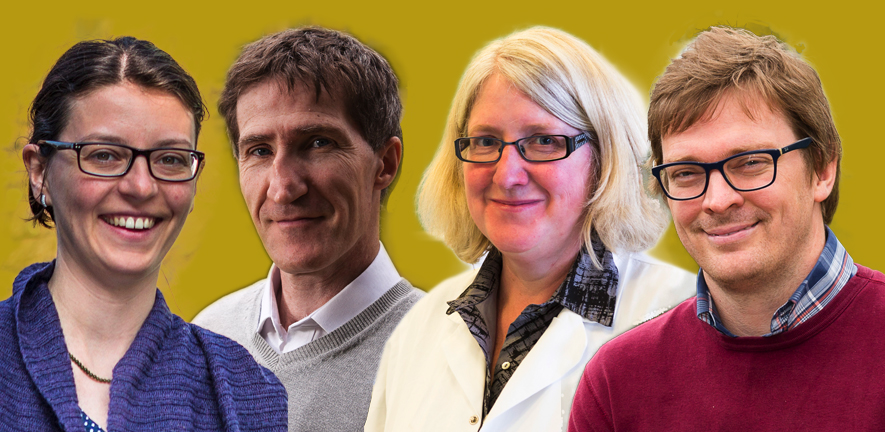 L-R: Silvia Vignolini, Stuart Clarke, Sophie Jackson, Erwin Reisner
The Department is pleased to announce several academic promotions. 
Stuart Clarke
: Professor Clarke's research interests cover a wide range of problems in colloid and interface science from adsorption of molecules to solid surfaces from liquids, to the structure and behaviour of particles in complex fluids.
Sophie Jackson
: Professor Jackson's research focuses on different aspects of how proteins fold and how large protein complexes assemble. Projects cover diverse areas including biophysics, molecular biology (including protein engineering) and chemical biology.
Erwin Reisner
: Professor Reisner's group is interested in artificial photosynthesis and solar fuels and develops novel photocatalytic systems by combining homogenous synthetic catalysts and enzymes with a light absorbing nanostructured semiconductor.
Silvia Vignolini:  Dr Vignolini's research group studies plant structures and how they manipulate light to obtain brilliant and iridescent colours. Knowledge of the interplay between the morphology, composition and optical appearance of biological photonic systems can provide inspiration for novel artificial photonic materials. 
To Principal Research Associate:
Janet Kumita: Dr Kumita is now a Principal Research Associate in the Centre for Misfolding Diseases.  Her research interests focus on studying the mechanisms of protein misfolding in globular proteins (specifically human lysozyme and disease-related variants) on a molecular level.
Congratulations to our colleagues on their accomplishments.