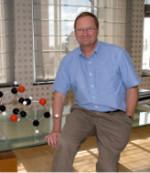 Director of Research
In the Ley Group, we specialise in developing new synthesis methods and applying them to the construction of biologically important molecules. Over the last 10 years we have completed the total synthesis of 28 natural products including spongistatin 1 (anti-mitotic agent), rapamycin (immunosuppressant), thapsigargin (SERCA pumps inhibitor), azadirachtin (insect antifeedant) and bengazole A (fungicide), taking our group total to 150 completed total syntheses. In addition to our research on natural product synthesis, we also have a new state-of-the-art flow chemistry facility. 
For more detailed research information, group members and our publication list please see the group website.