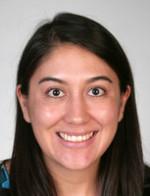 Professor of Computational and Molecular Biophysics
Rosana is the Professor of Computational and Molecular Biophysics at the Departments of Chemistry and Genetics, and a Winton Advanced Research Fellow in the Department of Physics. Her group develops multiscale modelling approaches to investigate the physicochemical driving forces that govern DNA packaging inside cells, membraneless compartamentalization via liquid-liquid phase behaviour of biomolecules (proteins, nucleic acids, and chromatin), chromatin structure, epigenetic phenomena, and the relationship between the structure of the genome and gene expression regulation. 
Professor Collepardo discusses her research
Surface Electrostatics Govern the Emulsion Stability of Biomolecular Condensates.
Study on stability, composition, and protein arrangement within bio-condensates formed via liquid-liquid phase separation
Deoxyribonucleic Acid-Encoded and Size-Defined π-Stacking of Perylene Diimides
– Journal of the American Chemical Society
Physics-driven coarse-grained model for biomolecular phase separation with near-quantitative accuracy.
– Nature computational science
Sequence-dependent structural properties of B-DNA: what have we learned in 40 years?
The chromatin regulator HMGA1a undergoes phase separation in the nucleus
Can single-component protein condensates form multiphase architectures?
RNA length has a non-trivial effect in the stability of biomolecular condensates formed by RNA-binding proteins
Kinetic interplay between droplet maturation and coalescence modulates shape of aged protein condensates
Targeted modulation of protein liquid–liquid phase separation by evolution of amino-acid sequence
– PLoS computational biology