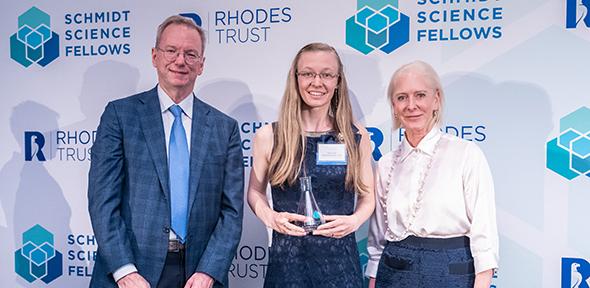 Image: courtesy Schmidt Science Fellows
Wednesday, April 10, 2019
A young researcher studying protein-misfolding in neurodegenerative diseases has been elected to the 2019 Schmidt Science Fellows programme. This aims to develop future science leaders who can address the world's most significant problems.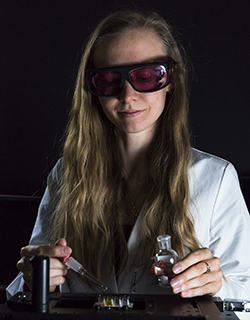 Dr Kadi Liis Saar is an EPSRC postdoctoral research fellow studying proteins, the molecules that are central to virtually all processes in our bodies. She works with Professor Tuomas Knowles in his research group and in our Centre for Misfolding Diseases which probes the role of protein misfolding in neurodegenerative diseases such as Alzheimer's and Parkinson's.
Kadi focuses on devising new methods for probing protein folding and aggregation in the context of neurodegeneration.
"Proteins are the executive molecules of life that through diverse sets of highly integrated and tightly regulated interactions set the molecular basis for our well-being. Yet the diverse and dynamic nature of proteins has made it challenging to devise methods that could be effectively used for understanding the roles of proteins in human health and disease," she says.
As a Schmidt Science Fellow, she will make use of new techniques, similar to those used by the computer chip and microprocessor industry, to develop a platform for high-throughput characterisation of proteomic fingerprints of individual cells, opening up the possibility of identifying previously unknown targets and disease biomarkers.
"This technology could have a transformative effect on human health-related studies," said Eric and Wendy Schmidt as they announced the 2019 class of Schmidt Science Fellows. 
The Schmidt Science Fellows programme, in partnership with the Rhodes Trust, aims to develop the next generation of science leaders to transcend disciplines, advance discovery, and solve the world's most pressing problems. The programme provides Fellows with the skills and perspective to harness and accelerate their exceptional scientific talents and opportunities to engage with diverse thinking in science, politics, society, and business to catalyse new ideas and connections.