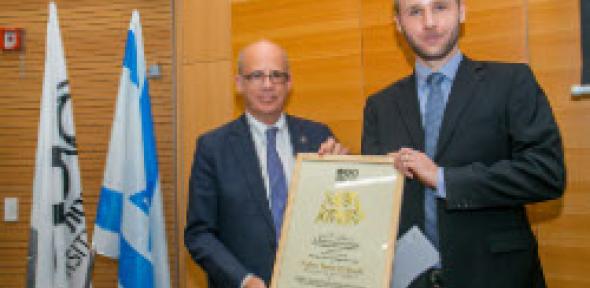 Image courtesy Tuomas Knowles
Tuomas Knowles, Professor of Physical Chemistry and Biophysics, has been awarded the 2017 Raymond and Beverly Sackler Prize in Biophysics.
Tuomas received the prize "for elucidating physical principles of amyloid fibril formation with important applications in biology and medicine" working in his research field of "Mesoscopic physics of cellular phenomena."
"I am very honoured by the award of this prize and delighted that the area of protein misfolding is capturing attention in the interdisciplinary field of biophysics," said Tuomas, who was given the award in a ceremony at Tel Aviv University in December. Tuomas' research in the Centre for Misfolding Diseases is aimed at elucidating the molecular causes of protein misfolding and aggregation implicated in Alzheimer's, Parkinson's and other destructive diseases.
The Raymond and Beverly Sackler International Prizes were established through the generosity of Dr Raymond and Mrs Beverly Sackler, patrons of the sciences at Tel Aviv University.  The Sackler Prizes are intended to promote originality and excellence of research in the fields of Biophysics, Chemistry and Physics.