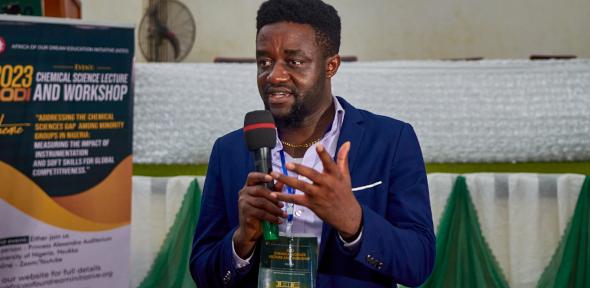 David Izuogu opens the conference, courtesy AODI
"Empowering future generations through education is at the core of everything we do," says David Izuogu, who founded the Africa of Our Dream initiative in 2018 while completing his PhD in theoretical chemistry here.
As part of this vision, AODI held its first ever chemical science conference in June at the University of Nigeria, Nsukka with the theme "Addressing the chemical sciences gap among minority groups in Nigeria: Measuring the impact of instrumentation and soft skills for global competitiveness."
 
The two-day event was open to Nigerian university students with an interest in chemical sciences, and included lectures on experimental analytical techniques, characterisation of compounds and computational chemistry. It also included hands-on workshops on the latest software and modern software capabilities.
David successfully completed his PhD last year and is now working as a consultant at McKinsey & Company, but remains very involved in AODI. He worked closely with AODI Administrative Manager Chisom Mbah and the organisation's interns and project manager to ensure a successful event.
Speakers at the conference included (from left: Bang Cong Huynh, Alex Thom, David Izuogu, Nick Bampos and AODI Trustee and entrepreneur Andrews Addy Asante, courtesy AODI.
Chisom, who coordinated the logistics and the volunteers for the event, says: "Their commitment and enthusiasm were instrumental in providing a positive experience for all participants."
David adds: "The passion of the volunteers to give their time to support the event was amazing and something I really appreciated. Our core AODI team is about 10, but we also had at least 30 others who came on board to support with the planning."
David also enlisted the help of former colleagues from the UK, including Deputy Head of Department Dr Nick Bampos and David's PhD supervisor, Dr Alex Thom, a University Lecturer in Theoretical Chemistry here.
Alex and Nick were pleased to support the conference, which was designed to help Nigerian students learn, build their networks and enhance their global competitiveness. And not only students benefited: the audience of over 600 in-person and online attendees included undergrads, grads, faculty members, chemists, biochemists and medics from across Nigeria.
Nick, who spoke on the first day of the meeting, says: "This was a memorable event in terms of the engagement and enthusiasm of the audience, and also the ambition of the programme.  David and the team ensured that each session offered something of practical and academic value to the participants. The visit also gave students the opportunity to meet staff in the Department of Chemistry, and for us to make many new friends that we will do our best to keep in touch with."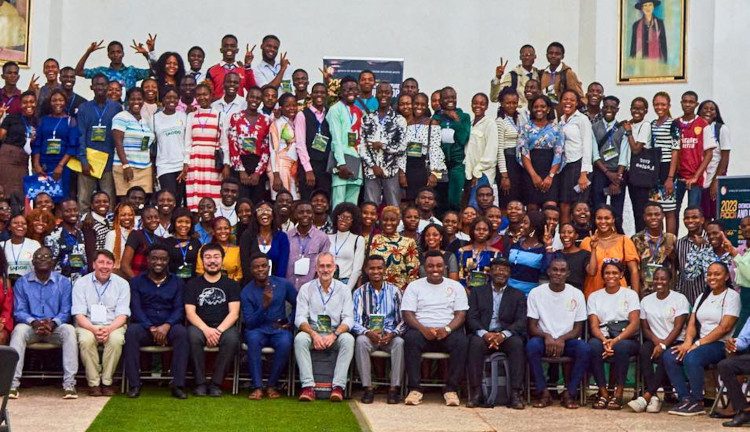 Final day at the conference, courtesy AODI.
The conference included a day of presentations on computational chemistry because, as David explains: "Computational chemistry you can do on a laptop. A student doesn't need fancy equipment or access to labs – all they need is a computer. It's also a field that allows you to interface with most other areas of science to bring about technologies that could redefine our future."
Alex agrees: "With just a laptop, they can do calculations on things that they don't have access to physically, and they can explore the world without limit."
Of course, the fact that David also studied computational chemistry for his PhD meant that he had many contacts he could ask for support. Another former Cambridge colleague who attended the conference was Dr Bang Cong Huynh, who was in the Thom group with David and is now a Research Fellow at the University of Nottingham. Bang shared his knowledge of Quantum Computational Chemistry along with Nottingham colleague Ross Amory, and facilitated a hands-on session about using quantum computational chemistry software.
Bang says: "I had a fantastic experience travelling to Nigeria and helping with the workshop. I was very touched by the amount of effort everyone put in to absorb as much knowledge as possible: many questions were asked and a lot of notes were taken. But it was the heartfelt friendliness and the brilliant smiles from everyone, organisers and attendees alike, throughout the entire workshop that I will remember for a long time."
Alex also had a great experience: "Everybody was unbelievably welcoming, friendly, inquisitive and wanting to learn as much as they could. They were all appreciative, they asked questions about topics in more detail, they wanted to be able to explore topics more and get advice on how to do extra computational chemistry or how to apply to Cambridge."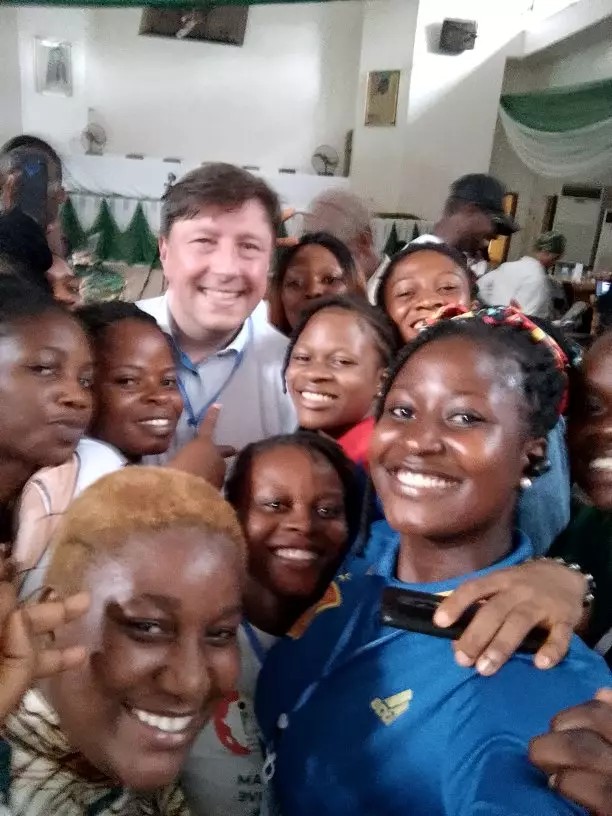 Chisom is thankful for the help and support of everyone at AODI and especially the speakers. She says: "I would like to tell you about how helpful everyone who travelled down to Nigeria for this event was. Dr Nick, Dr Alex, and Dr Bang from Nottingham University - they were super-human. They engaged with the students so actively, were super friendly, and connected right to the soul of every student present. They made my job easier; I couldn't have asked for more accommodating facilitators!"
The aim of AODI is "youth and women empowerment through education and capacity building." In his role as founder, David has organised a Cambridge-Nigeria Outreach Programme in three different Nigerian universities, started a Science Festival and a 'Code your way out of poverty' project, forged research links between Cambridge and Africa, and used his own savings to provide bursaries and pay application fees for talented Nigerian students to come to Cambridge. The initiative also runs a free mentorship programme for undergrad and postgrad students of African descent.
In 2019 David received a Vice-Chancellor's Social Impact Award for his work, and the Dr Amit Bhasin Prize in 2021. "I've been fortunate," says David "and that is why I want to give back. Africa is the future--and we should be prepared to embrace it," he says.
This is the sort of outreach that really makes a difference, but more can always be done. "We're building up their capability by using the technology they've got, but we can also give them mentorship, send them resources and give them access to software and computers," says Alex.
The conference was organised by the AODI in partnership with the Universities of Nigeria, Cambridge and Nottingham, and sponsored by the Royal Society of Chemistry and other funders.
Above: A friendly and welcoming crowd.
Below: Both days included hands-on learning workshops, courtesy AODI.