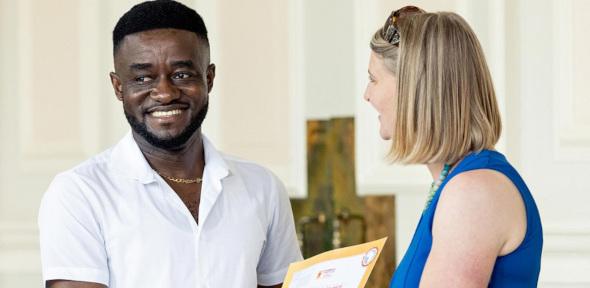 David Izuogu receives his award, courtesy Cambridge-Africa programme
Thursday, November 11, 2021
Fourth-year PhD student David Izuogu has been awarded the Dr Amit Bhasin Prize for his outstanding achievements.
The prize was created in memory of Dr Amit Bhasin, the Cambridge-Africa programme manager from 2019 to 2020, who died suddenly last year.
"I feel honoured to receive this award," said David, who is a theoretical chemist in the Thom group here. "Amit's memory will always live with me and I will continue to support the African community in Cambridge and beyond."
When he first came to Cambridge as a Cambridge-Africa Scholar in 2017, the student union elections were underway, so David stood and was elected for the post of International Officer of the graduate union. Since then, he has immersed himself in activities which support students here and abroad. He has received numerous awards, including the Vice-Chancellor's Social Impact Award in 2019.
One of David's goals has been to work towards increasing admissions to the University of Cambridge from a more diverse group of students, especially from Africa. "I found out that there were many people from Africa who were offered admissions that they could not take up due to lack of funding. When I talked to funding bodies like Gates and Cambridge Trust, I realised that we needed to make it possible for students from Africa to make competitive applications that could win scholarships," said David.
When David's term as International Officer came to an end, he felt the work was not done and he launched the "Africa of Our Dream Initiative." As part of the initiative he has organised a Cambridge-Nigeria Outreach Programme in three different Nigerian universities, started a Science Festival and a 'Code your Way out of Poverty' project, forged research links between Cambridge and Africa, and used his own savings to provide bursaries and pay application fees for talented Nigerian students to come to Cambridge.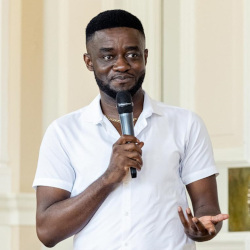 The Africa of Our Dream Initiative has also teamed up with the African Society of Cambridge University to encourage students from Africa to apply for postgraduate studies in Cambridge by helping them navigate the somewhat obscure application process. The programme has been so successful that they now need extra mentors. "We are calling on anyone who is passionate about supporting minority students from Africa to please join us," said David.
As President of the Wolfson College Students' Association, David initiated the Wolfson Entrepreneurs' Society (WES) and became its first president. The WES recently ran its first Wolfson Enterprise Competition, which provided an opportunity for undergrads and postgrads to design, pitch and execute their start-up ideas in a supportive environment.
David has also been a postgraduate representative with Vivien Lechner in this Department, representing students' needs and concerns, an especially tough role during the recent pandemic (see story in Chem@Cam Issue 62, page 8).
David's research investigates the use of computational techniques to explore how scientists can design molecules that will lead to having high performance single molecule magnets that can be used in information storage and quantum computing. Despite the fact that he belongs to almost 15 committees with which he is fully engaged, David says this has not affected his work and he recently submitted his thesis on time.
Meeting Dr Amit Bhasin
When Dr Amit Bhasin joined Cambridge-Africa, David was in his second year. Amit initiated interactions with Cambridge-Africa sponsored PhD students. David, who was appointed student representative at the Cambridge-Africa Strategic Advisory Group, spent time with Amit discussing ideas. Amit had barely completed six months in his position when Covid-19 broke out and students were forced to spend a lot of time on their own.
'He found a way to bring us together and showed us fatherly love at a time when this was much needed," said David. "At some point, he was no longer playing the role of manager, he was playing the role of family supporter. He was very funny and created this relaxed atmosphere that made people feel they could say anything. Although Amit had a lot of experience working in Africa, he was always ready to listen to people and understand the challenges people were facing."
The PhD scholars felt connected to Amit and had been wondering about his silence when they received an email from Dr Caroline Trotter informing them of his passing. "It made me realize just how short time can be. You have to do everything you think you can do because you don't know what tomorrow holds or what it is going to bring," said David.
Cambridge-Africa Programme Manager Dr Tabitha Mwangi said: "Although I never met him,  all who knew Amit attest to the joyful enthusiasm he brought to work. He was a great administrator who knew how to bring people together, making everyone feel valued. He had not been unwell so his sudden passing away was a jolt."
Amit's friends and colleagues raised Funds to create a prize to be awarded to an outstanding African research student at the University of Cambridge to remember him and celebrate his dedication to supporting African researchers throughout his career. Dr Mwangi said: "David is a lovely young man who is always on the lookout for others while managing to still work hard. He is a worthy recipient of this prize."
Cambridge-Africa is a University programme that supports African researchers and promotes mutually beneficial collaborations and equitable partnerships between Africa and Cambridge.
This article has been adapted with permission from an article written by Dr Tabitha Mwangi which first appeared on the Cambridge-Africa website.