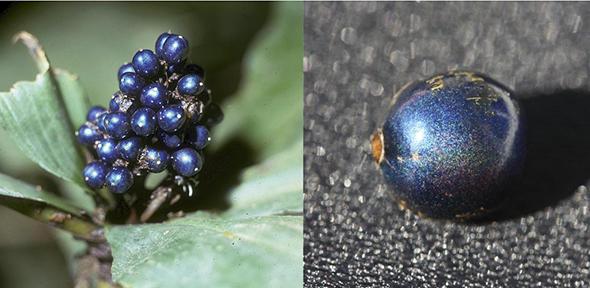 Image: the bright colour of pollia condensata berries stems from helicoidal cellulose structures in the cell walls
Researchers here studying the way Nature manages and manipulates light argue in the journal Nature Photonics that cellulose is an ideal candidate for the development of more renewable and biodegradable photonic materials.
Award-winning researcher Dr Silvia Vignolini, a pioneer in the study of photonic structures in Nature and an innovator in bio-mimetic materials, was approached to write the article just published in the June issue of Nature Photonics. 
Her comment article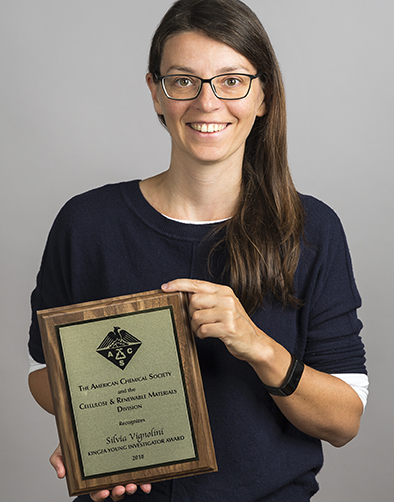 'Cellulose; so much more than paper' argues that as the most abundant biopolymer on Earth (as it's found in every plant cell wall), cellulose is an ideal candidate for the development of renewable and biodegradable photonic materials.
When compared with other biopolymers and proteins, the abundance of cellulose and its high refractive index makes it an ideal material to produce next-generation optical materials, especially when it comes to sustainability and biocompatibility.
"The last decade has seen an increasing number of companies selling nanocellulose products, and research groups working towards the development of cellulose-based optics and photonics have consequently flourished," the researchers write. 
"Such biologically-sourced building blocks as cellulose nanocrystals are, because of the unique combination of their chemical, mechanical and optical properties, currently being developed by the photonics community for use in applications from printing and sensing to highly light-scattering materials."  
The article goes on to describe the research advances being made to improve the standardisation of cellulose nanocrystals, and control their size and shape polydispersity, so that they can be produced and used on an industrial scale.
Cellulose is already "one of the most exploited natural resources on the planet and has served mankind throughout its entire history for construction, clothing and paper", write Silvia and her colleague Dr Bruno Frka-Petesic.
But, they add, research is helping us find and develop many further uses for a substance that we now know provides the key building blocks of sophisticated tissues with amazing optical properties. These include, in several species, helicoidal architectures of cellulose in the secondary cell wall of different plant tissues that provide incredibly bright colorations to their fruits or leaves. (Like the pollia condensata berries seen in the main image.)
"Nature has been a tremendous source of inspiration when it comes to photonics," Silvia and Bruno say. "From light management in photosynthetic systems to the control of appearance in living organisms, we can now look to nature not only for optical design strategies, but also for material exploitation: cellulose functionalities can now be engineered for optics and photonics in plants and bacteria."
And exploiting these properties could not only give us biocompatible and biodegradeable materials, but also help us address some significant issues.
Cellulose structures, for example, can be used to replace potentially harmful colour pigments and enhancers.
"The optical properties of membranes composed of cellulose nanofibrils can achieve highly bright white, even in thin coatings," Silvia and Bruno point out. "This is extremely relevant for industrial applications as commercially available white products, such as paints and sun creams, are typically formulated with high-refractive-index nanoparticles, for example TiO2, as scattering enhancers, which have recently raised serious health and environmental concerns."
The use of cellulose could also be a weapon in the battle against plastic waste. 
"It represents a truly renewable and biodegradable source for the manufacturing of sustainable products, especially nowadays in the context of growing microplastic pollution concerns worldwide," the researchers write.