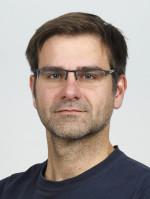 Senior Research Associate
Dr. Bruno Frka-Petesic graduated theoretical soft matter Physics from the University of Paris 7 (2006) and later defended his Ph.D. in experimental Physics at the Univ. of Paris 6 (2010), where he worked under the supervision of Prof. Régine Perzynski (PHENIX lab) on the control of self-assembly routes of magnetic nanoparticles. As a postdoctoral researcher, he worked at Cermav-CNRS (Grenoble, France, with Dr. Laurent Heux) and at the École Normale Supérieure de Paris (ENS-Paris, PSL, France, with Dr. Christophe Tribet) before joining the Vignolini group. His research interest is primarily focused on better understanding and controlling collective phenomena such as self-assembly and self-organization in soft matter systems from the nanoscale to the macroscale. His current research is focused on controlling the self-assembly of Cellulose Nanocrystals (CNCs) in thin films for optic and photonic applications. He also explores dynamic effects in out-of-equilibrium, evolving or dissipative conditions, e.g., under the influence of external fields, mechanic solicitations, drying effects and slow aggregation processes. 
Bruno is also co-founder of the Entrepreneurial Postdocs of Cambridge society (EPOC, https://www.epoc.group.cam.ac.uk), a Cambridge-based organisation that develops and delivers initiatives to support Cambridge researchers in their pursuit of business and entrepreneurial ventures, and to awaken them to the multitude of opportunities around them.