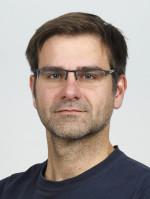 My research is focused on controlling the self-assembly of Cellulose nanocrystals (CNCs) in thin films for optic and photonic applications.
CNCs present an exponentially growing interest in the soft matter and industrial community. This low-cost, biocompatible, biosourced and widely available resource consists of thin elongated nanorods that present a low density and a high modulus, which makes them interesting as reinforcement fillers. Moreover, in suspension they form colloidal liquid crystals, and self-organize in a chiral nematic phase. When a CNC suspension is dried on a substrate, they form a thin solid film that retains this chiral nematic arragement, resulting in a nanostructured composite with remarkable optical and mechanical properties: they present a photonic stop-band for left-circularly polarised (LCP) light, resulting in LCP coloured reflection, and prevent catastrophic fracture propagation in solids, as observed in Nature with similar cholesteric architectures. My current project is focused on understanding and controlling the mechanisms of this self-assembly in these films, and what controls their long-range uniformity, orientation and angular response, as well as their integration with other biocompatible materials for multiple applications: edible nontoxic coloured pigments (industrial collaboration) and photonic metamaterial elements (low-cost and anti-counterfeiting applications).
Fig.1: polarised optical microscopy images of iridescent film of cellulose nanocrystals self-assembled into a cholesteric left-handed structure (400µm x 300µm).
The sample reflects the Left Circular Polarised (LCP) component of the light (left image) but transmits the Right Circular Polarised component (right image). 
Cellulose Nanocrystal-Templated Tin Dioxide Thin Films for Gas Sensing.
– ACS Appl Mater Interfaces
Visual Appearance of Chiral Nematic Cellulose-Based Photonic Films: Angular and Polarization Independent Color Response with a Twist
Controlling the Self-Assembly Behavior of Aqueous Chitin Nanocrystal Suspensions.
Angular optical response of cellulose nanocrystal films explained by the distortion of the arrested suspension upon drying
– Physical Review Materials
Liquid crystalline properties of chitin nanocrystals water suspensions
– ABSTRACTS OF PAPERS OF THE AMERICAN CHEMICAL SOCIETY
Magnetic and electric field alignment of cellulose nanocrystal suspensions
– ABSTRACTS OF PAPERS OF THE AMERICAN CHEMICAL SOCIETY
Optical analysis of cellulose nanocrystal films enables access to their self-assembly history
– ABSTRACTS OF PAPERS OF THE AMERICAN CHEMICAL SOCIETY
Printing of Responsive Photonic Cellulose Nanocrystal Micro-Film Arrays
– Advanced Functional Materials
Controlling the diffraction of light by cellulose nanocrystal assemblies using electric or magnetic fields
– ABSTRACTS OF PAPERS OF THE AMERICAN CHEMICAL SOCIETY