Image: courtesy of Masahiro Yamashina
Tuesday, December 10, 2019
C&EN drew up a shortlist of the ten 'coolest compounds of the year' and asked readers to vote for the one they thought was the best. The antiaromatic nanocage, created by researchers working in the Nitschke group, was the clear winner.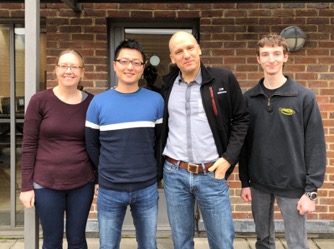 This is the first self-assembled nanocage to have antiaromatic walls. In creating it, the researchers – including Masahiro Yamashina of the Tokyo Institute of Technology, Michael Pittelkow from the University of Copenhagen and Roy Lavendomme, Jonathan Nitschke and Tanya Ronson here – overturned assumptions about the limits of nano-chemical engineering and created an entirely new nanospace for scientists to explore.
They reported their work in creating "a self-assembled cage composed of four metal ions with six identical antiaromatic walls" in the journal Nature in October. 
Pictured above, from left to right: Tanya Ronson, Masahiro Yamashina, Jonathan Nitschke and Roy Lavendomme.