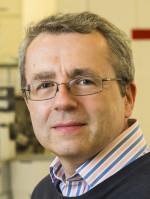 Director of Teaching and Outreach
I started as Director of Undergraduate Teaching in Michaelmas Term 2018, freeing up Dr James Keeler as he takes up the mantle of Head of Department.  I am looking forward to serving the department and getting to know all our undergraduate students, of whom we are so proud.
Brief Biography
I was an undergraduate at Imperial from 1982-85 during which time my Organic chemistry Tutor and final year project supervisor was Professor Steven Ley (who later moved to Cambridge!).  I came to Cambridge for my PhD, and was the late Prof Ralph Raphael's last research student. My PhD work was directed towards the synthesis of indolocarbazole natural products.  I spent a year as a post-doctoral fellow at Parke-Davis Neuroscience Research Centre in Cambridge and then returned to this department as a postdoctoral researcher with Andrew Holmes (now at the University of Melbourne).  I was appointed the department's first Teaching Fellow in 1995.  I am a Fellow of Robinson College and have been heavily involved in the academic and pastoral support of undergraduate and graduate students there since 1997 - directing studies in Natural Sciences since 2000, undergraduate & graduate Tutor since 1997 and Senior Tutor 2010 - 18.
Research interests
Organic Synthesis
Degrees
BSc in Chemistry, Imperial College London; PhD in Organic Chemistry, University of Cambridge.
Awards
Pilkington Teaching prize 2006
Other interests
Rowing coaching, cross-country skiing