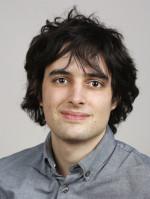 Kevin comes from Bordeaux (France), where he completed a BSc in Chemistry. He already experienced bread and cheese deprivation while spending his last year of BSc in the University of Bristol. Driven by this experience he completed a MSc in Food Sciences in Rennes and Nantes (France), specialising in bakery products. After two years of eating studying muffins and pound cakes, he completed another MSc in Material Chemistry specialising in soft matter back in Bordeaux.
Feeling confident enough to survive England's food landscape, in October 2021 he came back to Cambridge to complete a PhD under the direction of Prof. Vignolini in the Bio-inspired Photonic group through the Syntech CDT program. There, he is trying to develop a flow system to understand and improve the current hydrolysis of cellulose nanocrystals.
He is still alive and well.