In my research, I normally use computer simulations and classical statistical mechanics to study the behaviour of molecular and colloidal systems. In particular, I am interested in nucleation and self-assembly – and combinations of the two – and how thermodynamic and kinetic factors affect and control them.
DNA brick self-assembly with an off-lattice potential
Effects of co-ordination number on the nucleation behaviour in many-component self-assembly
Rational design of self-assembly pathways for complex multicomponent structures
– Proc Natl Acad Sci U S A
Communication: Theoretical prediction of free-energy landscapes for complex self-assembly
Effects of surface interactions on heterogeneous ice nucleation for a monatomic water model.
– The Journal of chemical physics
Numerical Evidence for Nucleated Self-Assembly of DNA Brick Structures
– Physical review letters
Computing phase diagrams for a quasicrystal-forming patchy-particle system.
Computer simulation of the homogeneous nucleation of ice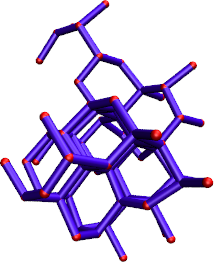 Note: Homogeneous TIP4P/2005 ice nucleation at low supercooling.
– The Journal of Chemical Physics
Free energy landscapes for homogeneous nucleation of ice for a monatomic water model.
– The Journal of chemical physics