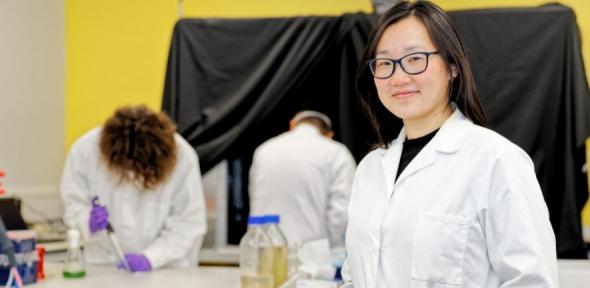 Gabriella Bocchetti ©University of Cambridge
Dr Jenny Zhang has been awarded the 2022 L'Oréal-UNESCO For Women in Science UK & Ireland Rising Talent Award in the category of sustainable development.
Zhang comments: "I'm absolutely over the moon to receive this award! It not only provides me with the means to accelerate my work on developing biohybrids for renewable energy conversion, it also connects me up with a wide network of amazing and like-minded people. I cannot wait to use it to promote sustainable development and also women in science!"
The award, announced on the 24th May 2022, recognises the potential of Zhang's proposal to construct an automated platform that will streamline the discovery of electroactive biocatalysts. These sorts of advancements will aid Zhang's research into biological processes and methods to rewire them for electron and fuel generation. This will aid research into developing sustainable biohybrid energy devices.
Congratulations to this year's L'Oréal-UNESCO For Women in Science Rising Talents!

- Dr Martina Cihova @MartinaCihova
- Dr Myriam Haltalli @MyriamHaltalli
- Dr Bernadette Stolz
- Dr Rachel Montgomery
- Dr Christina Faust @cl_faust
- Dr Jenny Zhang @JZhangLab pic.twitter.com/GBiH9Q62rQ

— UNESCO UK (@UNESCOUK) May 24, 2022
"I will use this award to develop an automated platform to drastically speed up data acquisition and biocatalyst discovery to push the development of photosynthetic biohybrids for solar energy conversion," comments Zhang. "Achieving this will help to transform the way in which my team does our research."
Jenny joined the University of Cambridge as a Marie Sklodowska-Curie fellow to investigate biocatalysts and how to incorporate them into energy conversion. Her latest research looks at bacteria that use photosynthesis and builds that biological process into electron and fuel generation.
A brief overview of Zhang's recent research on biotechnology involves harnessing light-sensitive bacteria to create electron pumps.