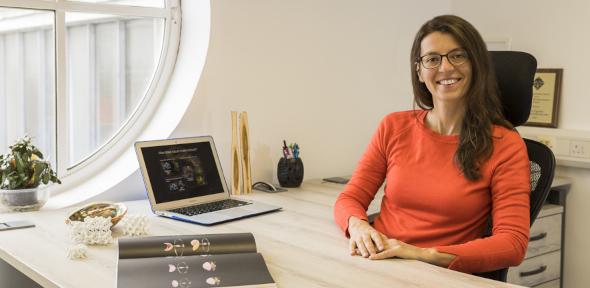 Professor Silvia Vignolini, courtesy @ChemistryPhotography
Thursday, December 1, 2022
Professor of Chemistry and Bio-materials Silvia Vignolini has been awarded a Royal Academy of Engineering Chair in Emerging Technologies worth £2.5 million.
Vignolini is one of four global leaders in their fields who are pioneering disruptive technologies with high potential to deliver economic and societal benefit to the UK.
The scheme aims to identify global research visionaries and provide them with long term support. Each £2.5 million funding award covers employment and research costs, and will enable the researchers to focus on advancing their technology to application in a strategic manner over a period of up to ten years.
Vignolini and her Bio-inspired Photonics group in this Department have discovered that plants produce bright and vibrant colouration through organising cellulose into sub-micrometer structures which manipulate light. These natural examples have inspired Vignolini to mimic the use of biological building blocks to create sustainable colorants in the lab. Vignolini is developing a new generation of manufacturing processes to produce colours using only naturally derived biomaterials, such as cellulose, a biodegradable and abundant plant material.
Vignolini's vision is that bio-based pigments will replace current alternatives made with energy-intensive and problematic materials. You can watch Professor Silvia Vignolini discuss her groundbreaking research at our Dr Hamied Frontiers in Chemistry Alumni Webinar on Wednesday the 14th of December from 18:00 – 19:00 GMT, entitled "A rainbow of colours from your fruitbowl." A video of the webinar will be available to watch on our YouTube channel a week after the webinar.
The three other researchers who have been awarded the prestigious Chairs are Professor Rachel Oliver, University of Cambridge; Professor Mehul Malic, Heriot-Watt University; and Professor Jason Hallett, Imperial College London.
Together, their research shows promise for biorenewable alternatives to petrochemical products (Hallett); more sustainable and naturally derived biomaterials to replace traditional pigments in manufacturing (Vignolini); using light for noise-robust quantum communication and networking (Malik); and porous compound semiconductor materials to support a new generation of energy-efficient devices with novel applications (Oliver).
Professor Sir Jim McDonald FREng FRSE, President of the Royal Academy of Engineering, said: "I am truly delighted that we are able to support such outstanding engineers and visionary individuals who will champion these emerging technologies and the significant opportunities they offer to make the world a better place for everyone. The Academy places huge importance on supporting excellence in engineering and often the key to engineers fulfilling their potential in tackling global challenges is the gift of time and continuity of support to bring the most disruptive and impactful ideas to fruition."
The scheme is funded by the UK Department for Business, Energy and Industrial Strategy.