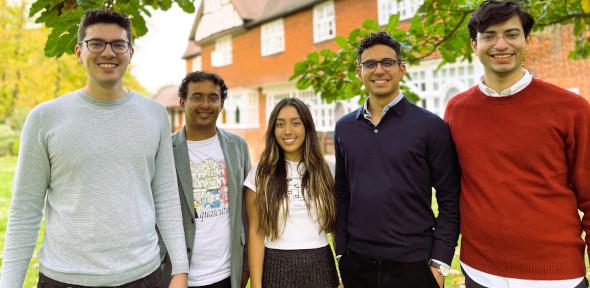 From left: Matt Greenig, Srijit Seal, Elsa Lawrence, Adham El-Shazly and Chaitanya K Joshi
Wednesday, November 16, 2022
Two students from our Department, with colleagues in Computer Science, Philosophy and Pharmacology, have been awarded a grant to investigate the application of artificial intelligence in biological discovery.
The grant will allow the multi-disciplinary team to organise a conference and publish a review paper on the theoretical, scientific and philosophical perspectives on biological understanding in the age of artificial intelligence.
The project will focus on recent developments in the theory of machine learning and how they apply to the modelling of biological systems. Students will explore the philosophical implications of relying on Artificial Intelligence systems for scientific insight into life sciences.
Postgraduates Srijit Seal and Matt Greenig applied for the grant with Adham El-Shazly (Department of Philosophy), Chaitanya K Joshi (Department of Computer Science and Technology), and Elsa Lawrence (Department of Pharmacology).
Seal, who is a third-year PhD student in the Bender Data-Driven Drug Discovery and Molecular Informatics group, said: "A few months ago, Adham, Chaitanya, Matt, Elsa, and I sat in the Clare Hall dining hall discussing the possibility of combining our research. A few pizzas and barbecues later, we were already applying for grants along with many academics in the competition."
Greenig, a second-year PhD student in the Sormanni group said: "We are thrilled to receive support for Accelerate AI, and we look forward to exploring how AI can help advance scientific understanding in biology and medicine."
The project will help bring together academics from various departments in Cambridge to discuss the ideal role of machine learning in biological science while also gaining a philosophical awareness of the field.
The grant was awarded by the Accelerate-C2D3 AI for research and innovation funding scheme, jointly sponsored through the Accelerate Programme for Scientific Discovery and the Cambridge Centre for Data-Driven discovery.
The Cambridge Centre for Data-Driven Discovery brings together researchers and experts from across the University to enhance the interdisciplinary nature of research. The Accelerate Programme is supported by a donation from Schmidt Futures, a philanthropic initiative founded by Eric and Wendy Schmidt, to pursue research at the interface of AI and the sciences and to equip young researchers with the skills they need to use machine learning and AI to power their research.  
Seal said: "We are delighted to receive the grant from Accelerate-C2D3. It arrived just in time, and our next step is to form a scientific advisory board to get the conference up and running."