Some of Sparxell's vivid pigments, courtesy Chemistry Photography
Monday, November 14, 2022
Chemistry spin-out Sparxell has been awarded first prize at the Chris Abell Business Plan competition.
Founded by early career researcher Benjamin Droguet, and based on research in Professor Silvia Vignolini's Bio-inspired Photonics research group, Sparxell is creating biodegradable and sustainable pigments that can be used in cosmetics, food & beverages, packaging, paints and many other industries.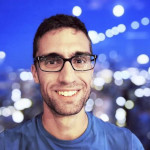 Droguet said: "My PhD combined nature with advanced manufacturing techniques that ultimately helped demonstrate the production of structurally coloured pigments, and a year after winning The Trinity Bradfield Prize, there is no better way to celebrate the beginning of our journey as a spin-out. I am keenly looking forward to the next steps for Sparxell."
Sparxell, a combination of the words "sparkle" and "cellulose", is looking to scale up the production of the cellulose-based pigments developed in the Vignolini group, and bring them to the market.  The pigments contain no mica and no titania, and are entirely biodegradable, with the least possible impact on the environment.
Droguet said: "Our products represent a revolutionary piece of material science at a time when society's need for plant-based, circular technologies has never been greater."
Above: Sparxell founder Dr Benjamin Droguet. Below: Finalists in the Chris Abell Postdoc Business Plan Competition 2022.