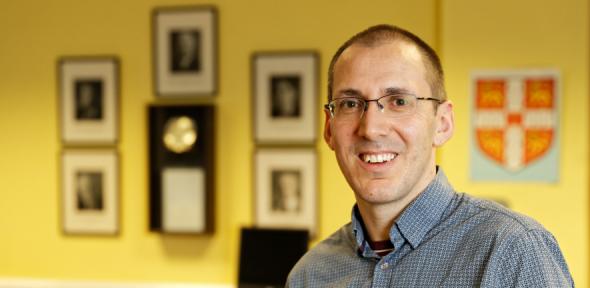 Courtesy Nathan Pitt, Department of Chemistry
Professor Angelos Michaelides has been awarded the Royal Society of Chemistry 2020 Surfaces and Interfaces award for his outstanding contributions towards the understanding of complex aqueous interfaces and the formation of ice at such interfaces.
Angelos has been working on a better molecular-level understanding of water at interfaces, and the formation of ice. He is interested in developing and applying computer simulation approaches to better understand materials and their surfaces, "with the most important substance of all – water – being a particular focus. A better understanding of these issues will be instrumental in the development of innovative solutions to some of the world's water problems," he says.
"I am honoured to have won the RSC's Surfaces and Interfaces Award. It is easy to say and is somewhat of a cliché, but there can be no doubt that this award acknowledges the hard work and dedication of the many excellent students, postdocs and collaborators our research team has had over the last few years."
Angelos will be joining the Department in October as the new 1968 Professor of Theoretical Chemistry. The award is based on his research at University College London, which involves the development and application of computer simulation approaches to catalytic and environmental interfaces, aiming at reaching fundamental new understanding of elementary processes at such interfaces. Water is a major focus of this work.
Angelos grew up in Donegal, Ireland, and obtained a PhD from The Queen's University of Belfast. Following this, he held postdoctoral fellowships in Cambridge and Berlin.  In 2006 he moved to University College London, where he has been a Professor of Theoretical Chemistry since 2009.
Since 2011 Angelos has been Director or Co-Director of the Thomas Young Centre: The London Centre for the Theory and Simulation of Materials, and since 2017 the Director of the Materials and Molecular Modelling Hub. He is also a Deputy Editor of the Journal of Chemical Physics and currently holds the World Record for the "fastest marathon dressed as a scientist (male)". [Editor's Note: You can find out more about Angelos and his marathon record here].
 
The annual award is given for outstanding and innovative research on the behaviour of chemical systems at surfaces or interfaces. Recipients are chosen by the Faraday Division Awards Committee of the RSC.