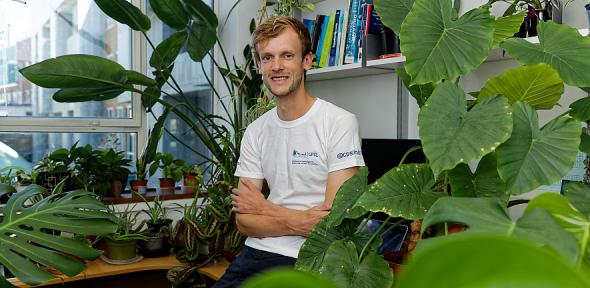 Nathan Pitt ©University of Cambridge
Wednesday, August 24, 2022
On August 16th, Dr Alexander Forse hosted a plant sale, selling over 70 plants, the proceeds of which went to Mind charity for mental health. The event raised over £700.
Plants ranged from £1 for a cutting to £20 for the largest plants so that everyone who wanted a plant could afford one. The twist? These are all plants that Alex has grown himself. Preparing for the event took a few months as Alex pruned plants, rooted cuttings, and repotted them ready for new homes. Scientists looking for a green desk buddy had a veritable jungle to choose from, and all in the spirit of promoting mental health awareness.
The charity that Alex supported, Mind, provides advice and support for anyone experiencing a mental health problem. They campaign for greater awareness, understanding, and services in around 125 locations across England and Wales. These services include a national infoline, and more specialised local services such as talking therapies, crisis helplines, and drop-in centres that vary based on the needs of the community.
"I benefited from resources from Mind when a family member was suffering from depression and was keen to give something back," commented Alex. "At the same time, poor mental health is particularly prevalent in academia, and there's a clear need for more open discussion on mental health. It's thought that connecting with nature can improve mental health, and I have found that my own mental health improves when I nurture plants. Through this plant sale I hope to support discussion on mental health in our department, and to help others connect with nature."
The Forse lab is investigating materials that can reduce greenhouse gas emissions and tackle the global warming crisis. Their research includes finding novel ways to capture CO2 and improve energy store.
If you want to add a donation for this great cause, then you can visit the Just Giving page.