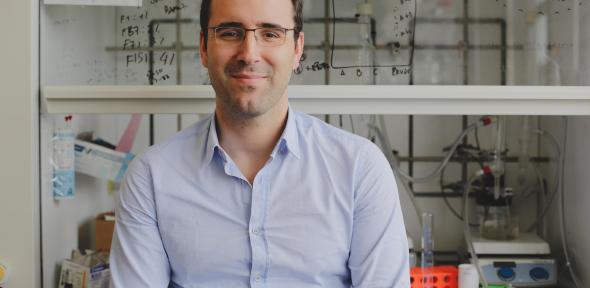 Courtesy Royal Society of Chemistry
Dr Gonçalo Bernardes has been awarded the Royal Society of Chemistry Harrison-Meldola Memorial Prize.
The Harrison-Meldola Memorial prize is awarded for the most meritorious and promising original investigations in chemistry and published results of those investigations.
Gonçalo directs a research program in the department at the interface of chemistry and biology. His research focuses on ways to modify proteins for potential use in the treatment of cancer and inflammatory diseases. 
Proteins consist of long strings of amino acids, and the order and identity of these amino acids, and the way the proteins then arrange themselves into 3D structures, are key to how they work in the body. Gonçalo's work develops reactions that can alter individual amino acids to make the proteins behave in useful ways.
Gonçalo said, "I am delighted to have been selected to receive the Royal Society of Chemistry's 2016 Harrison-Meldola Memorial Prize. This award provides a valued recognition of our work, and a strong motivation to continue developing innovative chemical approaches to study unmet biological questions and to build novel drug conjugates that are more selective, safe and efficient to treat cancer. In addition, this award also provides a great opportunity to disseminate to the broader chemical and biological community the impact of our recent discoveries."
Gonçalo won the European Federation of Medicinal Chemistry 2013 Young Investigator Award in Academia, and in 2014 he was awarded both the European Young Chemist Award, Silver Medal and the European Prize in Chemical Biology of the RSEQ. More recently he was awarded the Chem Soc Rev Emerging Investigator Lectureship 2016.
The Harrison-Meldola Memorial prizes are named after Edward Harrison and Raphael Meldola, commemorating their contributions to chemistry.