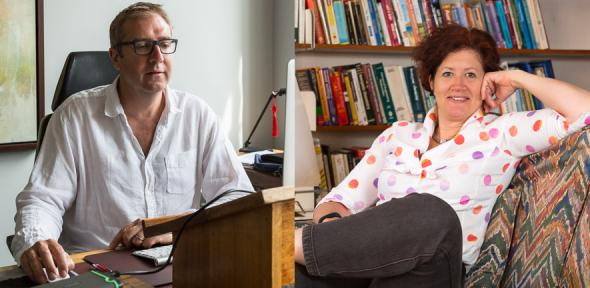 Professors Hunter and Duer, courtesy Department of Chemistry Photography
Congratulations to Professors Melinda Duer and Chris Hunter, who have each won advanced grants from the European Research Council, Europe's premier research funding body.
Chris Hunter, Herchel Smith Professor of Organic Chemistry, has been awarded a grant for his InfoMols project, which is focused on synthetic information molecules. "The aim of our project is replication and evolution with artificial polymers," he said. "The timeframe for achieving such a breakthrough is unpredictable, and it is the flexibility provided by an ERC award that makes tackling such challenging targets possible."
Professor of Biological and Biomedical Chemistry Melinda Duer has received funding for her EXTREME project to explore the chemistry that happens when biological tissue stretches or breaks. So-called mechanochemistry leads to molecules being generated within the tissue that may be involved in communicating tissue damage to cells. Detecting and understanding this chemistry is highly relevant for understanding ageing, and for developing new therapeutics for degenerative diseases and cancer.
"This award means I can do the research I've been dreaming about for the last ten years," said Duer. "I am extremely grateful to the European Research Council for giving me this amazing opportunity. The ERC is one of the few organisations that understands the need for longer-term funding for high-risk, high-reward research, which is essential for this project. I really couldn't be more delighted and I can't wait to get started!"
ERC grants are awarded through open competition to projects headed by starting and established researchers, irrespective of their origins, who are working or moving to work in Europe. The sole criterion for selection is scientific excellence. ERC Advanced Grants are designed to support excellent scientists in any field with a recognised track record of research achievements in the last ten years. Apart from strengthening Europe's knowledge base, the new research projects will also lead to the creation of some 1,900 new jobs for post-doctoral fellows, PhD students and other research staff.
Two hundred and nine senior scientists from across Europe were awarded grants in the recent funding round, representing a total of €507 million in research funding. The UK has 51 grantees, including 12 from the University of Cambridge, the most of any ERC participating country.
This article was adapted from an article written by Sarah Collins which appeared on the University of Cambridge website.