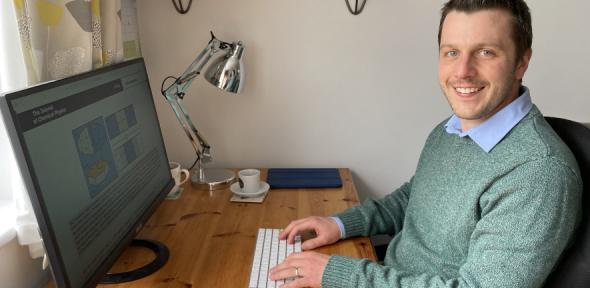 Dr Stephen Cox at his computer
Research associate Dr Stephen J. Cox has received an award for Best Paper by an Emerging Investigator from The Journal of Chemical Physics.
Stephen's paper, Macroscopic surface charges from microscopic solutions, was selected from a pool of papers included in the highly selective The Journal of Chemical Physics Emerging Investigators Special Collection.
Growing up in the small town of Newmarket, Suffolk, Cox enjoyed reading books about the unusual, gory side of science but did not initially anticipate a career in research.
"I wanted to leave school at 16 and become a carpenter, but I couldn't find an apprenticeship," he said. "So, I stayed on at school, and this is when I realised that science was something I might pursue seriously."
Cox earned his doctorate in computational chemistry at University College London, where he primarily worked on understanding ice formation through computer simulations.
During his postdoctoral fellowship at Lawrence Berkeley National Laboratory, Cox's interests began to shift toward ion solvation and electrolyte solutions, the topics of his winning paper. Using molecular dynamics simulations – a computational technique for studying the complex motions of atoms and molecules – Cox and his collaborator, Tom Sayer, aimed to better predict what happens to ions at the surface of a charged material placed within an electrolyte solution.
"To put things simply, some 'standard' simulation techniques give an incorrect account of the number of ions that adsorb from the solution environment to charged surfaces," he said.
To fix this, Cox and Sayer developed an approach for choosing the optimum electric displacement field to apply within their simulations to obtain the correct result. The pair hopes their technique will ultimately be relevant in the pharmaceutical industry, where understanding the impact of solvents is critical.
As an independent researcher in this Department, Cox uses computer simulations to tackle problems at complex interfaces, and collaborates with the groups of Professor Michiel Sprik, 1968 Professor of Chemistry Angelos Michaelides and Professor Emeritus Daan Frenkel. 
"I feel very honoured to receive this award," said Cox. "JCP has a long history and has published some of the most influential papers in the field. Moreover, the standard of papers in this collection is very high, so for my work to be picked out means a great deal."
As part of his prize, Stephen has been invited to write a Perspective article on his field for publication by The Journal of Chemical Physics. The other award winner was Brianna Heazlewood, a researcher at the University of Oxford.
This article has been adapted with permission from an article written by Anashe Bandari which first appeared in The Journal of Chemical Physics.