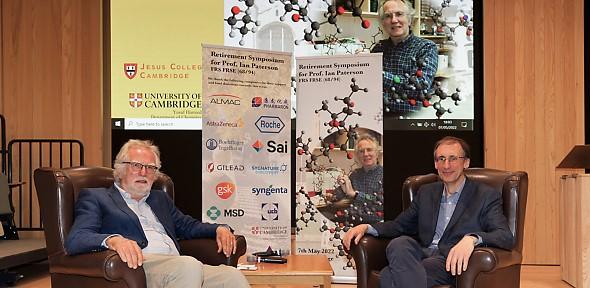 Ian Paterson (left) with Professor Jonathan Goodman, who organised the Symposium, courtesy Nathan Pitt, University of Cambridge
A symposium to celebrate the work of Professor Ian Paterson and his recent retirement was hosted on 7 May in Jesus College, where he is an Emeritus Fellow. 
At the symposium, it was noted that Ian's career has spanned over 40 years and, in this time, he has supervised 94 PhD students and over 50 postdocs. Talks, which were all given by former group members who had learned their craft from Ian, included themes such as drug discovery, data-driven chemistry and new synthetic methodologies.
"We are especially grateful for all the alumni speakers, many of whom have travelled from afar, to present their research highlights," says Ian. "Grateful thanks also to all the attendees and corporate donors in helping to make this a special and memorable occasion to celebrate my retirement. I feel that the symposium was the very pinnacle of my career and only matched by my election as a Fellow of the Royal Society. I am immensely proud of all my PhDs, postdocs, MPhils and visiting researchers that have worked in Lab 122 and what they have gone on to achieve in their respective careers."
"To my mind, the true legacy of any academic's career is ultimately the people that they have guided and influenced," comments Dr James Keeler, Head of the Department. "I know Ian's legacy will live on for many years to come in the careers, the science and the thoughts of all those who have been lucky enough to come into his orbit over the years."
Ian arrived in Cambridge in 1976 to complete a PhD with Ian Fleming, where he discovered the phenylthioalkylation of silyl enol ethers. After stints as a postdoc at Columbia University in New York and a Lecturer at University College London, Ian returned to the department in 1983 and has enjoyed success in synthesising biologically active natural products, such as the anticancer agent discodermolide, and the discovery and development of new synthetic methods to construct these lead compounds in the lab enabling further biological and preclinical studies.
Ian's final PhD student, Tegan Stockdale, spoke at the symposium about the investigation of rare anticancer agents that originate from the oceans. These marine natural products could be valuable medicines but their complex structures, which have often not been fully assigned, and scarcity make them challenging to develop. Tegan and other group members have been constructing these compounds synthetically and finding ways to simplify their structure while maintaining their function of inhibiting cancer cell growth.