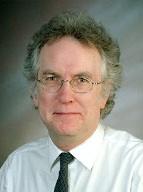 Research in the group ranges across the total synthesis of biologically active natural products and structural analogues to the discovery and development of new synthetic methods. Professor Paterson retired in October 2021 and is no longer accepting graduate students and postdocs.
Stereocontrolled Synthesis of Bioactive Natural Products and Structural Analogues
Representative targets include rare anticancer polyketides of both marine and terrestrial origin such as 1-4 below. For example, dictyostatin (1) shares the same microtubule-stabilising mechanism as the clinically important anticancer drug Taxol, while spirastrellolide A (2) is a potent inhibitor of protein phosphatase 2A. Likewise, chivosazole A (3) and reidispongiolide A (4) are novel actin-interacting macrolides isolated from myxobacteria and marine sponges respectively, which also represent challenging synthetic targets. In all these cases, the initial uncertainty over the stereochemistry, combined with their natural scarcity, has adversely affected their development. Efficient and flexible synthetic routes for the modular construction of these and other complex polyketide natural products are being pursued to establish their full configurations and provide a sustainable supply for detailed biological evaluation. A parallel objective is to design simplified analogues and hybrids that retain the exceptional cancer cell growth inhibitory properties whilst increasing their synthetic accessibility.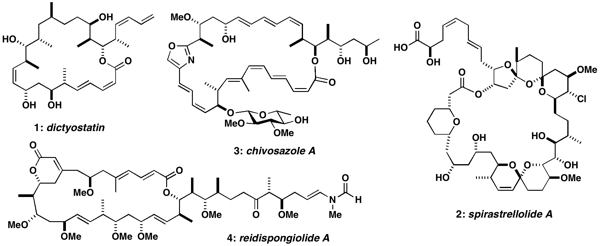 New Synthetic Methods
There is a need for new and more efficient methods of synthesis, particularly ones that achieve high levels of stereochemical control, where the development of asymmetric aldol methodology is of particular interest. These new methods are being applied to the synthesis of a wide variety of biologically important natural products.
Selected Publications
Dictyostatin and hybrids with discodermolide and taxol. Chem. Asian J. (2011), 6, 459; Tetrahedron (2010), 66, 6534
Spirastrellolide A. Angew. Chem. Int. Ed. (2012), 51, 2749; Org. Biomol. Chem.  (2012), 10, 5861 and 5873
Polyketide natural products as anticancer drug candidates. Org. Lett.  (2013), 15, 3118; Angew. Chem. Int. Ed. (2013), 52, 6517; Angew. Chem. Int. Ed. 

(

2011

), 

50

, 3219

; 

Curr. Opin. Drug Discov. Devel. (2010), 13, 777
Natural product synthesis using asymmetric aldol reactions. Angew. Chem. Int. Ed. 

(

2013

), 

52

, 9097
Conquering peaks and illuminating depths: developing stereocontrolled organic reactions to unlock nature's macrolide treasure trove.
– Chemical Communications
The stereocontrolled total synthesis of polyketide natural products: a thirty-year journey
– Bulletin of the Chemical Society of Japan
Total synthesis of the actinoallolides and a designed photoaffinity probe for target identification.
– Organic & Biomolecular Chemistry
Synergism of anisotropic and computational NMR methods reveals the likely configuration of phormidolide A
– Chemical Communications
Stereocontrolled Synthesis as an Enabling Tool for the Configurational Assignment of Marine Polyketide Natural Products
– European Journal of Organic Chemistry
Total synthesis and biological evaluation of simplified aplyronine analogues as synthetically tractable anticancer agents.
A Unified Total Synthesis of the Actinoallolides, a Family of Potent Anti‐Trypanosomal Macrolides
Towards the Total Synthesis of Hemicalide: Synthesis of the C27-C46 Region
A Unified Total Synthesis of the Actinoallolides, a Family of Potent Anti-Trypanosomal Macrolides
A counterintuitive stereochemical outcome from a chelation-controlled vinymetal aldehyde addition leads to the configurational reassignment of phormidolide A
– Chemical Communications