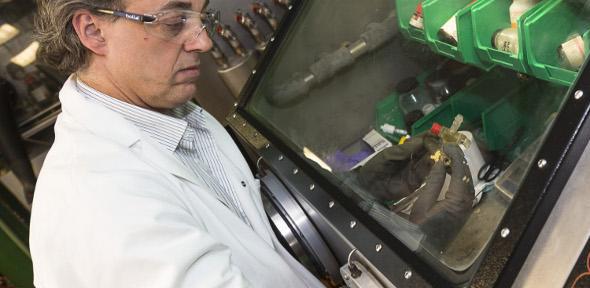 Professor Dominic Wright, courtesy Department of Chemistry Photography
Wednesday, December 22, 2021
Professor Dominic Wright was our postgraduate students' choice for Outstanding Supervisor this year.
Dom, who is a Professor of Inorganic Chemistry, says: "I was very surprised and pleased to get this award. There are many ways to run a research group that I see across the Department, and so many really good things that you could say about every group. I am not sure I could answer the question 'what makes a good research supervisor?' – so many things could be considered – but it's nice to think I may be doing some things right."
Head of Department Dr James Keeler says: "Every year we invite research students to nominate a PI for the award, and every year we are delighted to hear about the support and encouragement they've received from their supervisors. It is not a straightforward task to identify one of our colleagues to receive this accolade, but as they say, there can only be one winner."
The award was announced at the annual Student Reboot event, which is held every year in October to help postgraduate students find out more about the support available for them in the Department. The event moved online in 2020 due to Covid restrictions, and this year for the first time it became a 'hybrid event' with some students attending live in the Todd Hamied room while others watched it being live streamed.
At this year's event, postgraduate student reps Vivien Lechner and Niamh Hartley reported on the results of the annual student survey and gave a presentation on how students can access support when they need it. They introduced the Postgraduate Education Team, and explained how to contact them if they needed help.
Unsurprisingly, most of the student concerns this year were based around Covid, including worries about not being able to do work because of lab closures or space restrictions, and wanting more clarity about Covid rules. Vivien and Niamh said they can raise these issues with the Postgraduate Education Team and Committee, and work together with them to help search for solutions.
Postgraduate Education administrator Kerry Carruthers says: "The information provided was very useful. Vivien and Niamh keep in regular contact with us, so we are aware of issues as they come up, and we can solve them together before they get too big."
The Outstanding Supervisor competition was held for the first time last year, when it was won by Ian Paterson. The competition was initiated as a way not only to recognise and encourage supervisors for their hard work, but also to help improve the overall quality of supervisions by asking students about the qualities they value most.
Students were asked to nominate supervisors they judged to be outstanding not only academically, but also in other ways, such as overall quality of supervisions, support for project initiation, support for personal development and career planning, and help in degree completion. Nominations could also be accompanied by a short statement of support.
Kerry says: "Pretty much every single student of Dom's nominated him. Some of the comments we received were about how supportive he was, and that he was always willing to go the extra mile and take the time to help them out."
The award includes a cash prize to be spent on social activities for Dom's research group. Kerry emphasises: "This feels especially important now, while we are still dealing with the impact of Covid."
Kerry says the Postgrad team definitely plan to continue the award in the future. They are looking forward to returning to live events when it becomes safe, which give students more opportunities to meet each other and, of course, to have lots of delicious snacks, including the famous Postgrad team cupcakes.
The winners of the annual Showcase Week were also announced at the event. The Showcase Week, which was held in September, gives third year postgraduate students an opportunity to present a talk about their research and hone their oral presentation skills. The winners and runners-up in each RIG are listed below.
Showcase Week Awards
Theory RIG
Winner         Adam Přáda (Althorpe Group)
Runner-up   Maria-Andreea Filip (Thom Group)
 
Synthesis RIG
Winner         Phil Docherty (Phipps Group)
Runner-up   Lucia Trevisan (Hunter Group)
 
Physical RIG  
Winner         James Weber (Archibald Group)
Runner-up   Youngsub Shin (Archibald Group)
 
Biological RIG
Winner        Hannah Kiely-Collins (Bernardes Group)
Runner-up  Daniel Parle (Leeper)
Materials RIG
Winner        Thomas Parton (Vignolini Group)
Runners-up Ilma Jahović (Nitschke Group) and Yating Zhang (Vignolini Group)