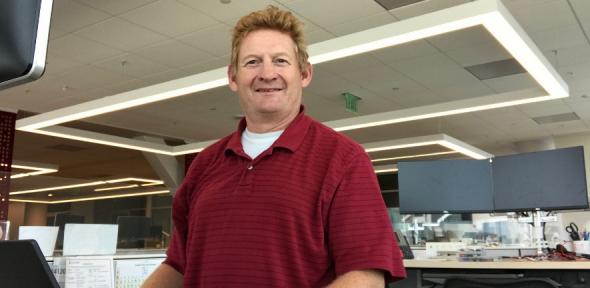 Alumnus Richard Mackman in his office at Gilead Sciences
Wednesday, September 23, 2020
As a third-year undergrad here, Richard Mackman gradually realised what he wanted to do: "I wanted to create something as a chemist that would make a difference," he says.  And with the development of the anti-Covid drug remdesivir, he has.
Richard had never forgotten how his school chemistry teacher had described his work on a cancer drug. "He told me about how he worked within a team in industry to develop a complex macrocycle compound as a new cancer treatment," he says, thinking back. "The science was amazing to me, that chemists could manipulate compounds to change their medicinal properties.  By my third year I had a singular vision -- I wanted to do medicinal chemistry and drug discovery."
Now, as Vice President of Medicinal Chemistry at Gilead Sciences, Richard has achieved his goal with the development of remdesivir, one of the only drugs that has been shown to be effective in the fight against Covid-19.
Richard feels lucky to have made it to Cambridge in the first place. His comprehensive school in West Yorkshire did not have a record of sending students to Oxford and Cambridge. However, the Head of Chemistry had a contact at Cambridge, and encouraged Richard to look at both universities.  
Richard particularly liked the Natural Sciences tripos at Cambridge and decided to apply to Jesus. "They made it hard to get in because the grades they asked for were quite high, and I was required to get a Grade 1 in a special paper, which my school had never done before."
The Head of Chemistry said 'I will help you' and arranged for my chemistry teacher David Morris, a Cambridge alum, to help me prepare for the exam.  David taught me the special chemistry course after school, all without charging my parents," Richard recalls gratefully.
Richard got the Grade 1 he needed in the Chemistry paper and came up to Jesus in 1985. He had chosen Cambridge's Natural Sciences course because it allowed him to explore different subjects. "At Cambridge I liked that I didn't have to limit myself to just one subject straight away. You could choose to do topics like materials science or pharmacology, so I could branch out early on and experience other subjects without committing 100 percent to one area of science."
Coming to Cambridge as an undergrad from a comprehensive school background, Richard felt intimidated and awed by the traditions and talent. "You come from a school where you are a bright student at the top of the class, and then find when you arrive here you are just middle of the road – that can be challenging and make you wonder if it was a good decision."
However, Richard soon became captivated by organic chemistry. "When I first applied I really thought I was still going to be a physicist or a mathematician. But by the end of the second year I was more enamored with chemistry, biochemistry and pharmacology, it felt more natural to me"
Perhaps this has something to do with Richard's Chemistry supervisor at Jesus, Professor Ian Paterson, an internationally respected organic chemist known for his work on the synthesis of biologically active natural products. "I remember feeling very intimidated at first, but Ian's great because his approach really puts you at ease," says Richard. "He's a great, patient teacher – everything I know about organic chemistry I pretty much learned from Ian. He was not just a teacher but also a thoughtful mentor."
One of the things Richard is grateful to Ian for is that "he took time to figure out what it was I wanted to do in that final year. I told him I really wanted to do a PhD. He said, 'If that's the case, who would you want to do it for?' When I told him I was interested in what Professor Battersby was doing, he said: 'Go tell him you're interested and ask him about his research!'" [Editor's note: Professor Sir Alan Battersby was one of the most eminent organic chemists of his generation, and was known affectionately as "Prof" by his research group.]
One of Richard's best experiences at Cambridge was going to the Senate House to get his final year grades. "I got the right grade that I needed to have a chance at getting a PhD place: I immediately went to see Prof Battersby and he said 'Yes - I was in!'"
As an undergrad, Richard played football and tennis for Jesus, but he says "one of the things it took me too long to do was come out of my shell." His advice to his younger self would be "Don't waste your time in your shell – get out of your comfort zone, join some societies ,try some new things and build friendships."
"I really felt that after those first few years, I'd worked so hard and not experienced a lot of what Cambridge has to offer – I wasn't ready to leave Cambridge yet. But it was also the people, the team sports, and the friendships that you build that I remember most. And I think it was also part of the reason I wanted to stay, because of those friendships I had started to build."
Having taken up rowing in his third year, as a postgrad Richard continued to row for Jesus, and also obtained a full blue in Karate (full blues in Karate are exceptionally given for meeting certain criteria). He has fond memories of the Bumps and other rowing races, and of course the Boat Club dinners. "I was at that time fitter than I've ever been my whole life since!" he says with a hint of yearning. Richard confesses that his most treasured piece of equipment is an old "ergometer" rowing machine that he has kept all these years, and which his wife would very much like him to get rid of!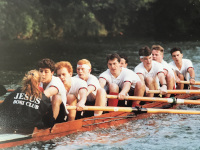 Richard in his boating years for Jesus College (third rower from left)
Richard's recounts his typical day as a postgraduate: "A crew outing in the morning at 6am, then in lab by 8:30, tea at 10:30, lunch, lab all afternoon then karate training for two hours at 5pm, then back in the lab for another couple of hours."
Richard thrived on this life. "The lab really became your home. There were always people in the lab – we'd order Chinese food from the shop on the corner of Lensfield Road [editor's note: this is still there!]. It was like a large family, and there was a great feeling of camaraderie – it wasn't hard to be motivated."
"Prof Battersby was a terrific gentleman and mentor, and he had this amazing way of getting the best out of you without being a task master. It was his approach, he'd have a whole list of ideas -- 'maybe this is what's happening, we could try this or we could try that' – he viewed every problem like a puzzle, and sometimes you had successes and sometimes not. He never had a bad word to say, he was always encouraging."
Richard also remembers Dr Finian Leeper as a real support and has fond memories of Friday afternoons with Finian and lab colleagues at the Spread Eagle – "we had lots of great pub discussions there."
 "When I learned to embrace the Cambridge life, I had a brilliant time," he says. "The PhD years were the best – having the lab family in Prof's group was great. Doing a PhD is really when you build those lifelong bonds of friendship."
Richard still keeps in touch with other chemistry department members from his time, many of whom have gone on to senior positions, including Alison Hulme, now Professor of Synthesis and Chemical Biology at the University of Edinburgh; Ian Bell, Principal Scientist in Merck's Department of Discovery Chemistry; James De Voss (former member of the Battersby group whom Richard met as a postdoc in California), Professor and Deputy Head of the School of Chemistry and Molecular Biosciences at the University of Queensland;  and Jason Micklefield, Professor of Chemical Biology at the University of Manchester. "The scientists I most admire are what I would call "academic statesmen" he says. "These are the people who have invested their whole life in academia and in educating the next generations of scientists."
Richard's best and worst experiences in Cambridge coincided:  "The best was completing my research and being awarded my PhD. The worst was then having to leave Cambridge."
Richard continues: "I loved Cambridge and didn't want to leave, but I wanted to do drug discovery for a career, and I really wanted to see the world too. Prof recommended Paul Ortiz de Montellano at the University of California in San Francisco, who agreed to fund me for two years, so that worked out brilliantly."
After backpacking across the world for six months, Richard arrived in San Francisco with his backpack and only two dollars in his pocket. "I hadn't enough money to get out of the airport!" Luckily he was rescued by a hostel owner, who invited him to stay and pay him back once he got settled. And 28 years later "I'm still in the Bay Area, and never left."
"At that time in the 1990s, San Francisco was really the hub of biotech innovation in America, so I was really in the best place to work," Richard says. After completing his postdoc, Richard joined a small company with only six chemists. After a year the company was facing financial challenges and Richard did not have a green card, so he found a more stable position in a larger start-up called Axys Pharmaceuticals
After working for several start-ups, Richard joined Gilead and never left "because it fulfilled all my expectations." Gilead focuses on drug discovery, particularly related to anti-virals. The company had recently developed Tenofovir, a treatment for HIV, and was growing rapidly.
Richard is proud to be associated with the development of remdesivir, which has been shown to shorten the stay of Covid-19 patients in intensive care.  "On the personal level, I succeeded in doing something that I set out to do more than 20 years ago, achieving a life ambition if you like. The other part is that we occasionally get to see messages from the heart that come from people who were helped by remdesivir, so you recognise how people's lives were made better by something you've contibuted to."  
This is a tremendously exciting time for Gilead. "We have a long history and deep roots in anti-viral drug discovery, and while we've moved into other therapeutic areas, we are still viewed as an innovator in antivirals. Remdesivir is a good example, we had the ability to move quickly into clinical studies because of the work and investment on remdesivir for Ebola. (Remdesivir was originally discovered for respiratory syncytial virus and then later developed as an anti-viral treatment for Ebola).
Remdesivir is delivered intra-venously, so very early on in the crisis, Gilead started to develop a formulation that can be inhaled. "We had some experience in our group working on another respiratory product with inhaled delivery, so we could draw on that experience to move an inhaled version of remdesivir forward quite quickly,. But these developments still don't happen overnight  – there's a lot of  new data required." However, Richard is pleased to note that Gilead has now publicly announced that clinical studies on inhaled remdesivir have started. "The hope is that it will provide another option for patients, particularly when the drug might prevent the development of more serious disease leading to hospitalisation."
"As a medicinal chemist, you're very versatile; you could work on different viruses, or cancer, or heart disease. It's all about using chemistry to disrupt a biological process. What I do now has some similarities to what I was doing for my PhD – I just have a different target now, a virus protein instead of the enzymes that make vitamin B12. And we're trying to design compounds that can engage with the virus protein, and in this case cause it to be dysfunctional."
In the Battersby group, Richard worked on the biosynthesis of vitamin B12, a complex organic compound that is built from a simpler compound called a 'pyrrole.' "We were trying to understand how nature uses enzymes that interact with molecules containing pyrroles to build up the more complex structures like vitamin B12." Interestingly, remdesivir also has a pyrrole in its chemical structure. "So that's another connection to my early PhD research," he says.
What advice would Richard give to young people coming from a comprehensive school background like his? "Take the chance and don't look back," he says without hesitation. "Even though the Cambridge system was challenging, it was the best decision I made in my life."
We are indebted to Jesus College for their permission to adapt and expand "The Jesuan behind the Covid-19 drug remdesivir" which originally appeared on the Jesus College website.