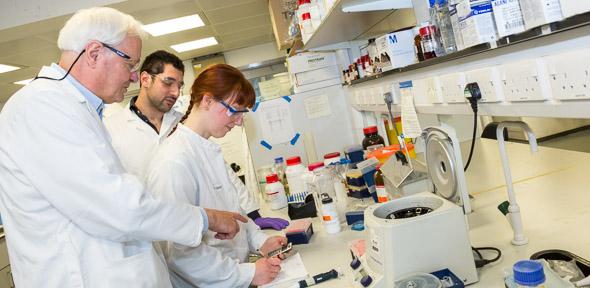 Image: Department of Chemistry Photography
A biopharmaceutical company co-founded by scientists here in the department has received significant funding to help it develop its unique approach to investigating protein misfolding diseases such as Alzheimer's and Parkinson's.
Wren Therapeutics was co-founded in 2016 by Professor Sir Christopher Dobson (pictured here with students), Professor Tuomas Knowles, and Dr Samuel Cohen and researchers from Lund University in Sweden, and focuses on drug discovery and development for protein misfolding diseases such as Alzheimer's and Parkinson's.  The company is hosted by the department's new Chemistry of Health building in its unique incubator space, which is the first in Cambridge to be directyly integrated into a University Department.  This Chemistry of Health Incubator nurtures spin-out companies from inception through early growth, and is the ideal space to encourage interaction between world class academics and entrepreneurs, with the goal of maximising application of research to real-world problems.
Protein molecules form the machinery which carries out all of the executive functions in living systems. However, proteins sometimes malfunction and become misfolded, leading to a complex chain of molecular events that can cause long-lasting damage to the health of people affected and may ultimately lead to death.  This group of medical disorders is known as protein misfolding diseases. Alzheimer's and Parkinson's are widely recognised protein misfolding diseases, but others include type-2 diabetes, motor neurone disease and more than 50 other related illnesses.
Sir Christopher said: "Wren is built on many years of highly collaborative, uniquely integrated, interdisciplinary research that has uncovered the key molecular mechanisms associated with protein misfolding diseases. I am hugely enthusiastic about our ability to make tangible progress against these diseases and change the course of life for millions of people around the world suffering from these debilitating and increasingly common medical disorders."
Dr. Cohen, who is the Wren CEO and also Entrepreneur in Residence at St John's college explained: "Protein misfolding diseases are one of the most critical global healthcare challenges of the 21st century but are highly complex and challenging to address. Current strategies - in particular those driven by traditional drug discovery and biological approaches - have proven, at least to date, to be ineffective. Wren's new and unique approach is instead built on concepts from the physical sciences and focuses on the chemical kinetics of the protein misfolding process, creating a predictive and quantitatively driven platform that has the potential to radically advance drug discovery in this class of diseases."
Wren raised the funding from an international syndicate led by The Baupost Group with participation from LifeForce Capital and a number of high net worth individual investors in a Series A financing round. Wren Therapeutics is a spin-off company from the University of Cambridge and Lund University in Sweden.
A fuller version of this article can be found on the University of Cambridge News website.