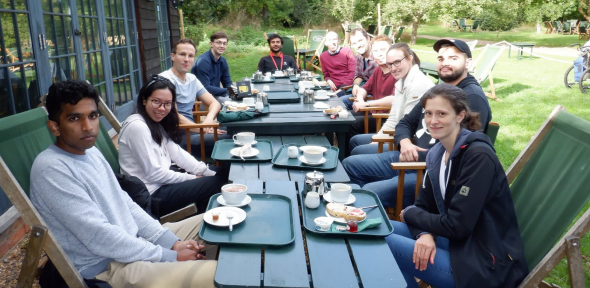 Friday, October 1, 2021
The group is delighted to welcome five new members this week. To celebrate, we took a trip down to Grantchester to enjoy some delicious scones and tea! The five new additions are:
Anna Bui, who is a Part III student that plans to work to understand the anomalously low friction coefficient of water in carbon nanotubes.
John Hayton, who is a Part III student that will be using molecular dynamics simulations to model homogenous nucleation in thin and ultrathin films.
Pavan Ravindra, who is a MPhil student that will work to explore the newly predicted superionic phase in monolayer water.
Sam Brookes, who is a SynTech CDT PhD student that will work on modelling chemical reactions with machine learning potentials.
Flaviano Della Pia, who is a PhD student that plans to work on studying difficult solid-state systems with Quantum Monte Carlo.