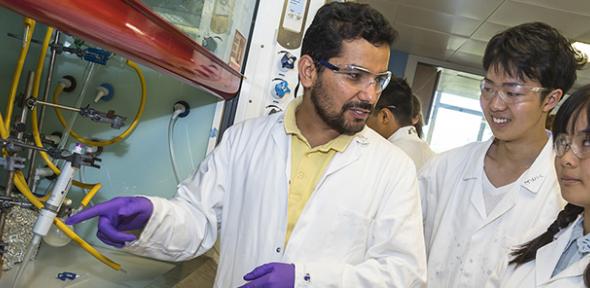 Growing up in poverty in rural India, Vijay Rana almost didn't get an education. "My mum and dad never went to school themselves, and it was a real struggle for them to find the money to educate me," he says. But somehow, by borrowing from family and friends, they managed to put him through school - where he first discovered that he loved Chemistry - and then university. Today, helped by bursaries that helped him get to ETH in Zurich to do his doctorate, and then here to Cambridge, Dr Vijay Rana is working as a postdoc in the Scherman Group.
He is conducting research in the field of supramolecular systems, focusing on colloids and hybrid supramolecular hydrogels. "And now I'm living my best life ever," he says of the experience.
"My mum and dad never went to school and it was a real struggle for them to find the money to educate me."
After the battle he had in India to get an education, here he is seizing every opportunity to learn. "I always had this hunger for knowledge, but I didn't have good teachers at school or college. But here, there are so many chances to expand your knowledge, from the talks by visiting lecturers, to meetings within our group where we all share our research. I love it, I'm learning so much from it."
He is also getting involved in outreach activities here, so that he can help others to learn. For it is Vijay's long-term aim to return to India and help other children from deprived backgrounds, like him, to get an education. 
That's why in late July, he was leading a workshop for UK and Japanese sixth-formers in the Melville Lab. This annual UK-Japan Young Scientists' Programme (run by the Clifton Scientific Trust), which has taken place in the Melville Lab for a number of years, brings together high school students from UK and Japanese schools to gain lab experience and skills.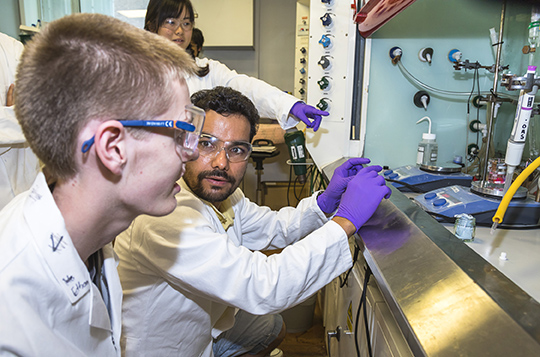 At the July workshop, the students were studying drug molecules in hydrogels together, analysing how different molecular structures affect the rates at which the drugs are released. Vijay was there alongside them, teaching them how to use the equipment, run the experiments, and record and analyse the results. 
Vijay, now a Marie Curie Research Fellow, says "I have been involved in the workshop in the past. But this time I asked to lead it, because I want to have more of this type of experience and improve my knowledge of how to reach out to people." He is a natural, according to the Clifton Trust's Dr Eric Albone. "He has a very good rapport with the students, you can see it."
A financial crisis
In running this workshop, Vijay is giving other children the kind of opportunity he never had himself. He comes from a village in a rural area 120 km north-east of Delhi. It's farming country, the most common crop being sugar cane. His parents, sugar-cane farmers, had never gone to school themselves, and Vijay might not have done so - particularly when a brick-making business they set up went disastrously wrong, plunging the family into debt and forcing them to sell their farm land.  
But despite their financial problems, his parents recognised that Vijay had an aptitude for learning. So they borrowed from relatives and friends and sent him away to school in an isolated ashram. But this was the start of an extremely unhappy period in his life. 
No textbooks, and writing on a slate
The level of education was extremely basic. "We sat on the floor for lessons, we wrote on slates, and never had exercise books, " Vijay says. "And the teaching was poor, the teachers weren't very good at explaining things during our lessons." 
He also feels he was subjected to physical and psychological abuse there. "The teachers used to beat us, even for very small mistakes," he says, recalling how once a teacher beat him so hard with his shoes that he was left bleeding from wounds to the head. He and other children there were also molested by staff, and other adults, at the ashram. "The ashram was in a very isolated valley and there was no-one there to protect us. At the time I didn't know differently, I thought it was part of ashram life. But I now recognise that we were being abused," he says. 
He was overjoyed when he was finally able to come home at the age of 15. But sadly, his life did not get much easier then. His family borrowed more money to send him to high school in their nearest city. "But I sometimes had to miss classes because we just couldn't afford the bus fare." He was also having to fit his studies in around the hours of unpaid work - doing cleaning, working in a shop - demanded of him by an uncle who had lent the family money. 
Unsurprisingly Vijay became depressed and sometimes thought of ending his life, he reveals. But school friends supported him and two tutors who saw how much he wanted to learn gave him extra lessons for free. With their help, he passed his high school exams and then made it through a Bachelor's and a Master's degree. And his life was completely turned around when he won a bursary to ETH in Zurich, to study for a PhD, and then a mobility grant from ETH to come to Cambridge to work as a postdoc. 
Helping poor children get an education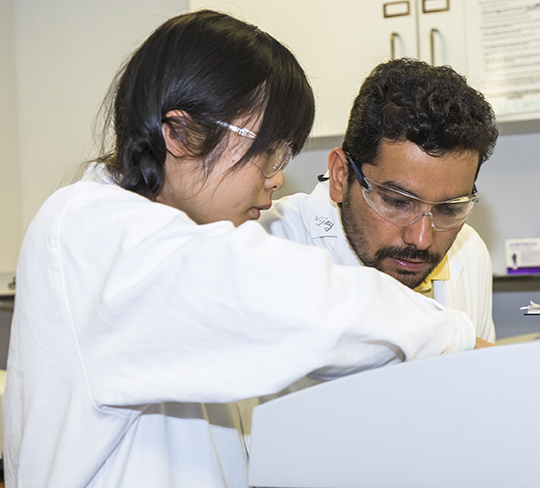 And now he wants to give back. "I have had good fortune, and now I want to give good fortune to others," he says. "I want to set up a school to bring children from different parts of Indian society together, where the fees the richer families paid would help make places available for poorer students who couldn't pay," he says.
"I feel like if I can help one child to do equally well, or better, than me, then I will have achieved something in my life. Everything I have done so far in my life is for me. Now I want to give some good fortune to others."
Remember how lucky you are
And does he have any message for those whose journey to this department has been much less arduous than his? "Yes," he laughs. "It is easy to forget to say thanks for what you have, or to complain about problems that are fairly small. I say, look at the people who don't have anything close to what you have and remember how lucky you are."