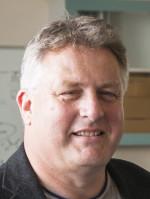 University Associate Professor
Research in my group can be divided into two areas, although these share a common theme of engineering metal protein interactions in novel ways.
One goal is to engineer novel proteins and polypeptide based assemblies that can be used in molecular electronic devices and nanotechnology in general. This involves understanding, at a fundamental level, how metal cofactors, particularly heme, is delivered to proteins in vivo and, in the case of c-type cytochromes, how heme is covalently attached to protein. It also involves understanding how functional protein units can be assembled into larger nanoscale assemblies that gain function through the proximity of the constituent monomers.
The other goal is to explore the interaction of 4d and 5d transition metals with proteins, particularly as a possible route to finding novel medicinal compounds. Specifically, Ruthenium organometallic complexes have shown some potential as anti cancer compounds, but little is understood about how the chemistry of Ruthenium interacts with biomolecules.
Research Interests
Self Assembly of Proteins into functional materials
Heme protein assembly and heme chaperones
Electrochemistry of Proteins
Heavy metal complexes and ther interaction with Proteins