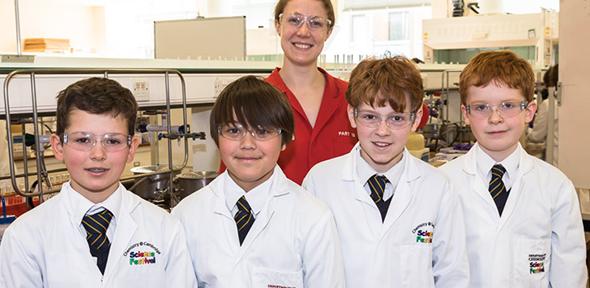 Schoolchildren aged 11-13 became forensic chemists for a day. They conducted experiments to solve The Mystery of the Missing Trophy as they took part in the Salters' Festival of Chemistry we hosted here.
The childen, from schools across the East of England, were here to enjoy a day of science challenges aimed at encouraging their interest in chemistry.
The first competition was set by the Salters' Institute, which supports science education. Working in pairs in one of our teaching labs, the children had to carry out practical experiments to try and find out who had stolen the 100-year-old Institute's missing Centenary Trophy. 
Testing the ink from the ransom note
They conducted test tube reactions on samples of the white powders found on the shoes of the suspects and the floor of the entrance hall. And they used the technique of chromatography to test the ink from the suspects' pens and from the ransom note!
How much iron is in a vitamin tablet?
After a lunch break, they took on the 'University Challenge' set by the department to find out how much iron there really is in a multivitamin tablet. As the iron is contained in a chemical compound, they had to use dilute hydrochloric acid (like the acid in our stomachs) to release the iron into a solution before they could discover how much iron was present by using spectrophotometry.
At the end of the challenges, the children enjoyed an explosive lecture, It's A Gas, by Dr Peter Wothers, one of our teaching fellows.
The students were judged - on their practical work, team work, and logical thinking skills - by representatives from AstraZeneca, Biochrom Ltd and the University of Cambridge. At the end of the day, prizes were awarded to the winning teams.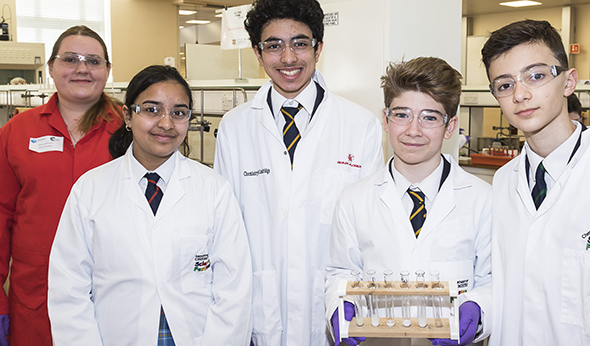 In the Salters' Challenge:
third prize went to Comberton Village College
second prize to St Francis College
and first prize to the team of girls from St Mary's Senior School.
In the University Challenge: 
third prize went to St Faith's School 
second prize to Sawston Village College
and first prize to The Perse School.
Children competed to take part
This annual event is much enjoyed. Lorna Bingham, science teacher from Potton Middle School in Bedfordshire said, "We could only bring a team of four but we had more students who wanted to come. So they competed to be here by taking part in a quiz and doing some practical experiments in the lab in their own time." 
And the students from Sawston Village College told us that they had relished "the practical work", "getting to mix the different chemicals together", "the calculation we needed to do at the end of the University Challenge" and "the exploding hydrogen balloon in the lecture!".