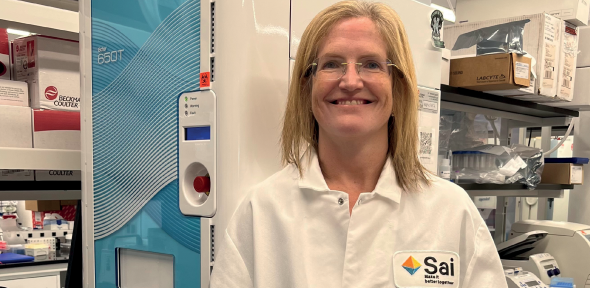 Dr Victoria Steadman. Sai Life.
Introducing Dr Victoria Steadman and Dr Teagan Stockdale, two alumni from the Paterson group and where they are today.
Dr Victoria Steadman
Vicky Steadman has always enjoyed the exploratory nature of organic chemistry. "You come up with a hypothesis based on the literature and then you test it. If it doesn't work you go back to the drawing board and try something else. It encourages problem solving, which is useful in everything, not just chemistry," she says.
Vicky recalls the Paterson group as being very collaborative and supportive. "Ian was a great supervisor – he was friendly and encouraging, and always helpful with suggestions when things were not working as planned – which happens a lot in chemistry," she says. "We also had a bit of a tradition of going to the Panton Arms, which was a lot of fun."
After her PhD and a postdoc in the US, Vicky worked at Merck and then at GSK, but then decided to try a smaller company, so she joined Selcia, which worked with global pharma, biotechs and academics to carry out research on their behalf. "That was my first experience of a contract research organisation," she says.
During her 12 years at Selcia, Vicky gradually became more involved in business development, which suited her. "It's one of those roles that not everyone could do as a chemist," she explains. "You need to have a certain type of outgoing nature to get out of the lab – which is technically focused – into more of a relationship-building type of role."
Two years ago these skills propelled Vicky to join Sai Life Science, an international contract research organisation which works with companies globally to provide research and development services. Vicky's role is in business development, supporting the discovery side of Sai.
Vicky was thrilled to be invited to speak at Ian's retirement symposium in May. "So many people who I haven't seen for years flew in from around the world, and it was interesting seeing all the different types of things they were doing– some are academics, some are high in industry, some in biotech, some patent attorneys. It was a wonderful reunion and fantastic to reconnect with people who I hadn't seen for a very long time."
Vicky was particularly pleased to speak at the symposium about how she had used Paterson's own boron-mediated anti-Aldol reactions and retrosynthetic approach to synthesise a set of molecules used in the treatment of hepatitis C and other diseases.
"What a pleasure it was both being a PhD student in Ian's group, and to be invited to speak at the Symposium. Many thanks to Ian for everything."
Dr Teagan Stockdale
Ian Paterson's final group member, Tegan Stockdale, who passed her viva days before Paterson's retirement symposium in May, earned the title "Dr" just in time for the programme.
Teagan presents at the Paterson symposium. University of Cambridge.
Tegan might never have come to Cambridge at all but for Professor Mary Garson, Tegan's friend and mentor at the University of Queensland, who was a contemporary of Ian here in the 1970s. Tegan recalls: "Mary said to me – you should spread your wings and apply to my old stomping grounds – and so I did."
And what a final student to have – Tegan had completed a Bachelor of Science in Chemistry and Biochemistry while also obtaining a Bachelor of Laws at the University of Queensland. She graduated the top of her honours year (roughly equivalent to a Master's integrated research year).
Tegan is now a trainee patent attorney at D Young & Co in London. "I basically had to choose between passions," she says. "But one of the things that truly inspires me now is seeing that scientific research come to fruition and becoming implemented in the real world."
Tegan is also completing a postgraduate certificate in intellectual property law at Queen Mary University of Law. "I'm enjoying everything about my job and course – I don't think there's a day that's gone by that I haven't learned something new," she says.
"There's this term in patent law and biotechnology called synergy. You add different things together but the combination of the parts is more than what you would have expected.
I feel that putting together my science knowledge and legal knowledge in this profession is a good example of that. The sum of its parts is much, much more."
This article was originally published in Issue 65 of Chem@Cam magazine. It was republished on the website to mark International Women's Day.