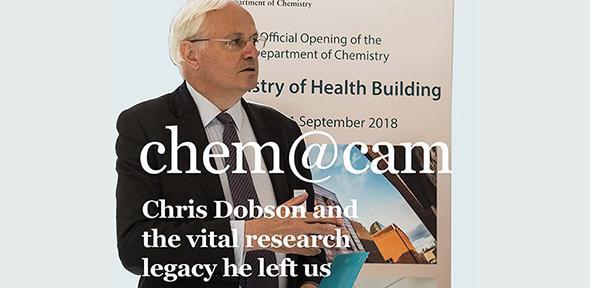 Wednesday, December 18, 2019
When Chris died in September, we lost a brilliant scientist committed to tackling the scourge of neurodegenerative diseases like Alzheimer's. But though he has gone, his vital work lives on inside our Chemistry of Health building – a state-of-the-art facility for studying neurodegenerative disorders that Chris helped set up.
It is enabling researchers to advance our understanding of the deviant proteins that cause these diseases, and develop tools for their early diagnosis. Meanwhile Wren Therapeutics, a spin-out in the building's incubator, is developing new drug discovery methods and preparing new drug targets for clinical trials. The centre pages of Chem@Cam are devoted to a feature – A vital legacy of research – about the Chemistry of Health facility and includes an interview with the Cambridge alumnus with a special reason for supporting it. 
Highlights include:
Artificial Leaf produces clean gas: An 'artificial leaf' device created here can make a key industrial gas using only sunlight, carbon dioxide and water instead of fossil fuels.
The alumni on a Heartfelt mission: Former students are developing a monitor that, by simply photographing patients' feet, can spot the warning signs of heart failure.
Read the latest issue online or download a PDF of this issue.