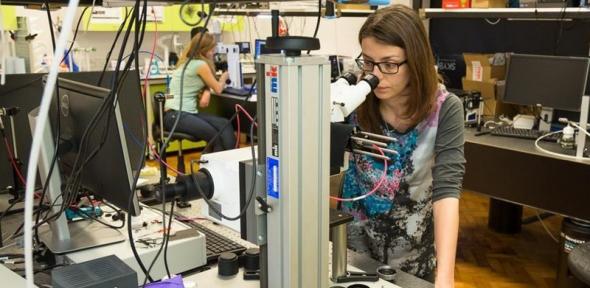 Photo courtesy Department of Chemistry
Wednesday, November 29, 2017
Dr Silvia Vignolini will deliver the final BP-ICAM webinar of 2017 at 3pm on Thursday 7 December, on the topic of bio-inspired photonics.
The most brilliant colours in nature are obtained by structuring transparent materials on the scale of the wavelength of visible light. By controlling/designing the dimensions of such nanostructures, it is possible to achieve extremely intense colourations over the entire visible spectrum without using pigments or colorants.
"In this seminar, I will introduce some striking example of natural photonic structures and review our recent advances to fabricate bio-mimetic photonic structures using the same material as nature," said Dr Vignolini.  "Biomimetic with cellulose-based architectures enables us to fabricate novel photonic structures using low cost materials in ambient conditions. Importantly, it also allows us to understand the biological processes at work during the growth of these structures in plants," she said. 
Dr Vignolini's current research interests are focused on using physical approaches to study the self-assembly of biopolymers both in nature and for the fabrication of novel functional materials. 
The BP International Centre for Advanced Materials (BP-ICAM) was set up by BP in 2012 and brings together the world-leading strengths of four universities (Cambridge, Manchester, Imperial College London and the University of Illinois at Urbana-Champaign) to create an international centre of excellence in advanced materials research.