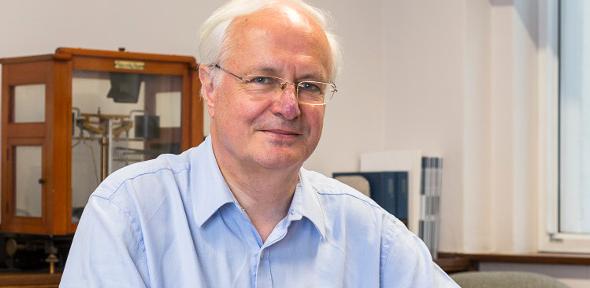 Courtesy Department of Chemistry
Monday, September 9, 2019
Heartfelt tributes are being paid to our distinguished colleague Professor Sir Christopher Dobson – a pioneering researcher in the chemistry of neurodegenerative diseases – who died on Sunday, 8 September 2019. 
Sir Christopher, known to his colleagues simply as Chris, held the John Humphrey Plummer Professorship of Chemical and Structural Biology here in the Department since his arrival in 2001. He had also been the Master of St John's College since 2007.
His research into protein misfolding – the phenomenon behind neurodegenerative diseases such as Alzheimer's and Parkinson's diseases, as well as Type 2 diabetes – helped to advance the global understanding of these conditions.
Head of Department Dr James Keeler said: "Chris' scientific contributions over a long and very productive career have been outstanding, and his legacy will live on in the many people he welcomed into his research group or collaborated with.  Chris was a great nurturer of scientific talent and his group has, over the years, had a huge influence on the direction of research well beyond Cambridge. "
Chris was a prominent figure in the department, not only because of his renowned scientific ability, but also because of his kindness and warm demeanour.  He received countless academic awards for his scientific achievement, culminating in a Knighthood in the Queen's Birthday Honours 2018 for his contributions to Science and Higher Education.
In 2013 Chris co-founded the the Department's Centre for Misfolding Diseases, which has brought together researchers from a wide variety of scientific backgrounds to investigate the molecular processes underlying neurodegenerative diseases.  His personal warmth and enthusiasm played a key role in realising the completion of the new Chemistry of Health building,  which now houses the Centre. "As well as being an outstanding scientist, Chris was a great communicator of science to non-specialists, and was able to convince people of the importance of his work," said Dr Keeler. 
"The Chemistry of Health Building is a testament to Chris' vision and energy, but more than any building, he leaves behind an outstanding scientific legacy. Our thoughts are with his family, and with his wider academic family who will surely feel his loss very keenly."
Chris is survived by his wife, Dr Mary Dobson, their sons, Richard and William, and his beloved dog, Jimbo.