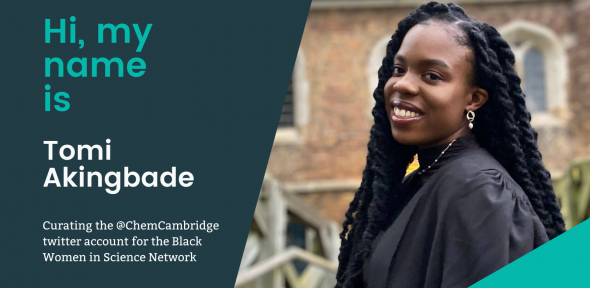 PhD student Oluwatomi Akingbade, a member of Professor Sir David Klenerman's lab, took over our twitter account @ChemCambridge on the 16th June 2022.
She gave our followers a peek into the halls of the Yusuf Hamied Department of Chemistry and shared some of her research into Alzheimer's Disease and how protein build-up can cause inflammation and sensitisation.
My typical day starts with some data analysis. Usually from experiments I've done the day before. Yesterday I did an ELISA which usually takes 8+ hours and generates a whole host of results. I prefer to do this with a fresh mind to avoid any mistakes!

— Cambridge Chemistry (@ChemCambridge) June 16, 2022
A quick check of my cells in the #microscope to make sure they're growing healthily. I need them to be a little more confluent before using them in tomorrow's experiment. Back in the incubator they go!

#cellculture pic.twitter.com/QA2RVWBMYd

— Cambridge Chemistry (@ChemCambridge) June 16, 2022
Before I go, here are some things you can get involved with...@BWiSNetwork. A Network I started to connect and empower Black women in STEM. We recently launched a podcast that you can listen to here https://t.co/H7ogzyTop2

— Cambridge Chemistry (@ChemCambridge) June 16, 2022
About Tomi
After graduating with a Master's degree in neuroscience from the University of Nottingham, Tomi went to work in an NHS COVID-19 testing laboratory. This experience was essential for helping her choose her research path as she realised that she was interested in early interventions and therapeutics. So, when she got funding from Queens' College to do a PhD in Professor Sir David Klenerman's lab, she knew it was the right choice.
Her research involves the study of proteins called amyloids, which are the first proteins that have been linked with Alzheimer's disease. Amyloids are supposed to be found in the brain and, when healthy, are created and cleaned up naturally. However, sometimes these proteins clump together into protein aggregates, which can cause inflammation. Tomi is researching how these build-ups cause inflammation and, in long-term cases, DNA damage.
The Black Women in Science Network
During her scientific career, Tomi felt the need for a network of other black women scientists to share experiences and advice, so she started the Black Women in Science Network.
There are opportunities to get involved and support the BWiSN; their podcast can be found here and new episodes will be released over the summer each Monday.
Additionally, black women in science are invited to join the network. There is a monthly virtual brunch which includes discussion, sharing experiences, and a safe environment. The best way of staying up to date with everything is by subscribing to the newsletter.
Twitter Takeover
Want to takeover our Twitter? A takeover is an opportunity for an ambassador to share their research to a new audience, inspire and communicate. Get in touch with news@ch.cam.ac.uk to find out more.