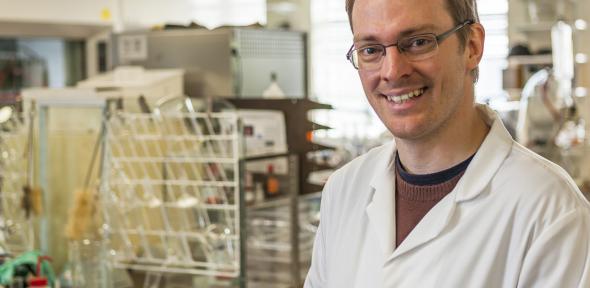 Courtesy Department of Chemistry Photography
Thursday, January 7, 2021
The creation of hydrogen from sunlight and waste has received funding to support development towards commercialisation.
Photoreforming is a process which uses sunlight to transform biomass, food and plastic waste into hydrogen. Now researchers in the Reisner group have received a European Research Council Proof of Concept grant to support their research into the scalability and eventual commercialisation of this technique.
Proof of Concept grants cover activities at the very early stage of turning research outputs into a commercial proposition. "This grant will allow us to improve our process and help us to develop a sustainable business model for commercialisation," said Erwin Reisner, Professor of Energy and Sustainability here, who will lead the research.
Hydrogen is a promising green fuel, but it is currently generated from fossil fuels in an energy-intensive process that releases greenhouse gases. Even the current photoreforming process relies on corrosive acids or bases in order to make the waste soluble, which raises sustainability and economic concerns.
In the new "SolReGen" project, researchers plan to couple their photoreforming process with a benign enzymatic waste pre-treatment, which will make it environmentally friendly as well as more economical, thus enhancing its commercial potential.  
Photoreforming has great potential as a hybrid technology for waste management and renewable energy production that is faster, less expensive and more environmentally friendly than other techniques. "Our goal is to use photoreforming to create hydrogen from waste in a completely sustainable, economical and scalable process," said Reisner.