Image: Department of Chemistry Photography
"I really hope the issue of indoor air pollution will attract more attention now. It's a significant part of our exposure to pollution, because we spend 90% of our time indoors, and particularly affects children." 
So says our postdoctoral research associate, Lia Chatzidiakou (pictured above right), who helped write the recent report commissioned by London Mayor Sadiq Khan into Indoor Air Quality in London Schools.
The report made headlines last week when it detailed the levels of damaging pollutants – including carbon dioxide, nitrogen dioxide and particulate matter – that children are exposed to in some London schools. It also revealed that levels of fine particle pollution were actually higher inside some classrooms than outside, and above annual World Health Organisation guidelines.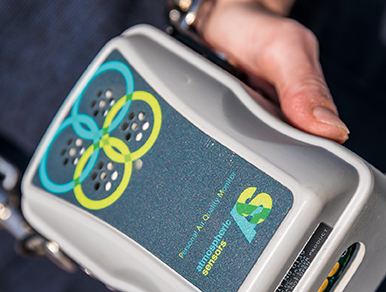 Young children – who are more vulnerable to airborne pollutants than adults – are breathing in fine particle pollution (PM10 and the even smaller PM2.5): this pollution is primarily produced by diesel vehicles, tyre and brake dust, and the burning of solid fuels. But it can also come from inside a building itself. As a result, the researchers pointed out, schools "represent a significant exposure environment that can trigger health symptoms among susceptible children." The report was published as the Mayor announced a new £1 million fund for measures to address the problems of toxic air in the capital's most polluted schools.
Lia, now a postdoc in Professor Rod Jones' atmospheric chemistry research group, undertook some of the field work cited in the report for her PhD project at UCL. It was funded by the European Commission's SINPHONIE project (Schools Indoor Pollution and Health Observatory Network in Europe). Lia worked in six London schools, monitoring levels of pollutants and measuring the children's lung function and health symptoms such as the prevalence of asthma attacks among them.
She says: "We saw that there was a significant association between nitrogen dioxide levels in the school and the prevalance of asthma in children (a finding that was also supported by previous research).
"At one school we monitored in central London, next to a street with a high intensity of traffic, the prevalence of asthma was 12 per cent while in a suburban school that was sited further away from traffic, the prevalence was one per cent. That's a significant difference."
She says measuring indoor pollution and its impacts on health is an important area of research in a country such as the UK, which has the highest incidence of childhood asthma in Europe.
"Most atmospheric scientists are measuring outdoor air quality, but indoor air pollution is an equally important issue, especially for children. Children are more susceptible to chemicals and pollutants than adults. And when they are exposed to pollutants at school, they don't have an option to leave because school is compulsory."
And she adds: "Even when indoor pollution is being measured, it tends to focus on carbon dioxide levels. But simply measuring CO2 does not give us a detailed enough picture of what is going on; many of the pollutants that come from traffic are not affected by how much you ventilate the building."
Now a research associate here, she continues to focus on the associations between exposure to air pollution and particular health outcomes. She and her colleagues are working on a project that has been using both a network of low-cost air sensors and personal health monitors to measure residents' exposure to polluted air in Beijing and its impacts on their health. And she is conducting similar research in Dhaka, Bangladesh.
"What I like about our current work is that because of our methodology, we are able to build up really detailed pictures of what is happening.
"As in my PhD, I am measuring people's personal exposure to pollutants. Then I was taking an average measurement of two normal weeks – one in the heating season, one in the non-heating season – and measuring the children twice to see what was happening with their lung function and asthma attacks. But here we are using portable platforms such as personal health monitors that participants wear 24 hours a day along with a network of low-cost sensors. That means we get a far more detailed picture over time of what's happening."
Read more about the Beijing air quality research in the spring 2018 issue of chem@cam magazine.