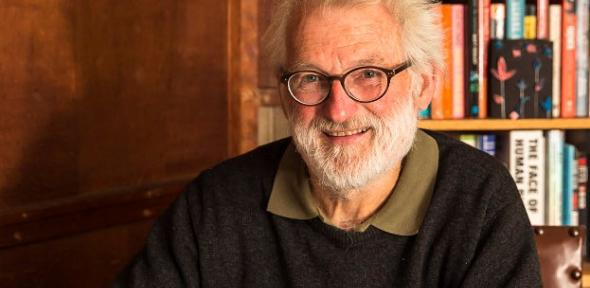 Image courtesy of Department of Chemistry Photography Department
We are saddened by the death last week of Sir John Sulston. An alumnus of the department, he shared the Nobel Prize for cell lineage research in the nematode worm and went on to lead the UK research in the Human Genome Project.
Professor John Pyle, Head of Department, says: "John was a fabulous scientist and we were very proud to be associated with him. His scientific work was recognised in many ways, including by a Nobel Prize. He was also a passionate advocate in areas where science and scientists interface with society – not least in arguing the moral position against the exploitation of the human genome for profit and helping keep genomes in the public domain."
Only a few months ago, we were celebrating John's achievements with him. Last October we invited him back to the department where he studied for his degree and PhD in organic chemistry to receive our Alumni Medal.  This award is presented to recipients "for service to the community that has brought honour to the University of Cambridge Department of Chemistry."
It was a very happy day and an opportunity for us to recognise the contributions his work has made to society and thank him for them.
Professor Chris Abell, Pro-Vice-Chancellor for Research at the University of Cambridge and Professor of Biological Chemistry, said: "Without John's stand, we wouldn't be in the situation we are now, where we can use genomic information to drive medicine forward and create more personalised and effective treatments. That, to me, ranks as a very high achievement."
Sir John, who preferred to be known simply as John, came to Cambridge first as an undergraduate in 1960 and stayed on to study for a PhD in organic chemistry under the supervision of Professor Colin Reese.
He later shared the Nobel Prize in Physiology or Medicine in 2002 with Sydney Brenner and Bob Horvitz, for cell lineage research in the nematode that gave access to genetic regulation of organ development. In parallel, John and Bob Waterston worked on the nematode genome, and were the first to sequence an animal genome. 
John became founding Director of the Sanger Institute in 1992 and from there led UK research in the Human Genome Project.
We send our condolences to John's family.