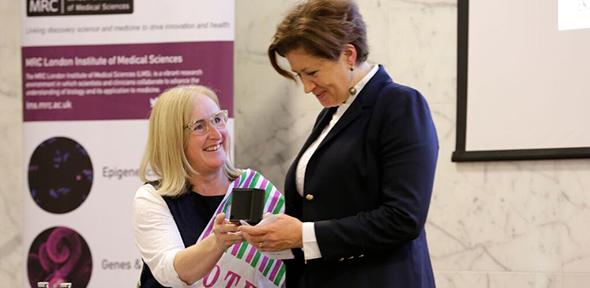 Image: MRC London Institute of Medical Sciences
A female professor here who is described as "generous, supportive, and particularly encouraging of the ambitions of her female co-workers" received a prestigious Suffrage Science Award on International Women's Day.
The Suffrage Science Awards, which are presented every two years, celebrate women in science and engineering and encourage others to enter science and to reach senior leadership roles.
Melinda Duer, Professor of Biological and Biomedical Chemistry here, received her award during a ceremony at The Royal Society.
Melinda has led pioneering research into the molecular structure of bone, and the underlying chemical changes in the tissue of blood vessels that cause them to harden as we age, leading to heart disease and stroke.
She is one of 12 women working in Engineering and Physical Sciences who were recognised at the ceremony for their work in helping and inspiring fellow females in the same field.
Two other women scientists from the University of Cambridge also received Suffrage Science Awards. They are Dr. Róisín Owens from the University's Department of Chemical Engineering and Biotechnology, and Professor Serena Best from the Department of Materials Science.
The awardees are chosen by the previous award holders for their scientific achievements and their ability to inspire others.
Melinda was nominated by Sharon Ashbrook, Professor in Physical Chemistry at the University of St Andrews. Professor Ashbrook says: "Melinda has been a role model to generations of students and early-career staff in her department and the wider research field.
"She has great enthusiasm for her research, really enjoys working closely with all her students, and is extremely encouraging to younger researchers. She is very supportive – she provided significant help and support when I began my academic career – and particularly encourages the ambitions of her female co-workers. I probably would not have made the choices that have led to the career I have enjoyed without her support."
The Suffrage Science scheme was initiated by Professor Dame Amanda Fisher, Director of the Medical Research Council's London Institute of Medical Sciences, in 2011.