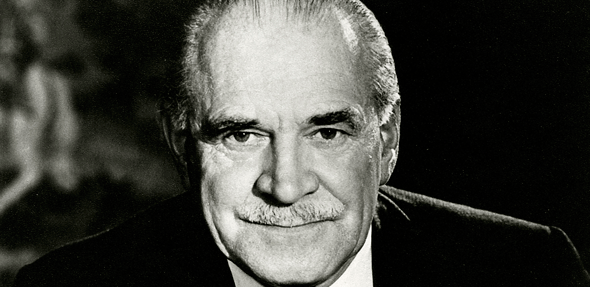 Wednesday, November 29, 2017
A recipe shared with us by one of our alumni reveals a Nobel Laureate's favourite Christmas treat.
Raji Heyrovska, who studied for a PhD here from 1964-1968, found Professor Ronald Norrish's cherished family recipe for mince pies when she was going through some old correspondence. He was Head of the then Department of Physical Chemistry and the recipe was shared with Raji by his wife, Anne. Raji says: "This was Professor Norrish's favorite pie and he asked me to take this recipe from Mrs Norrish. As Christmas is coming, I thought I would share it."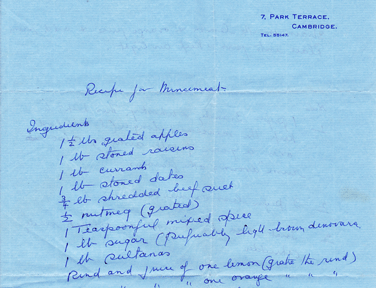 The recipe calls for generous quantities of fruit in the home-made mincemeat that fills the pies. It requires one and a half pounds (0.68 kg) of apples as well as one pound (0.45 kg) each of stoned raisins, currants, dates and sultanas, as well as candied peel.
But it also reveals careful attention to the type of alcohol that was to be added to the mincemeat both for flavour and, importantly, as a preservative. The original recipe asks for rum, but in her notes at the end, Mrs Norrish says: "I prefer brandy & whisky. This helps to keep the mincemeat longer. (It will last over a year if kept airtight). Also, rum "drowns" other flavours."
Professor Norrish (pictured above, in an image courtesy of the Department of Chemistry) was known to be partial to a whisky, so it's not surprising that it crops up as an ingredient in his favourite pie. Former Head of Department Professor Brian Thrush, who worked as Norrish's research student on the flash photolysis equipment that later led to the award of a Nobel Prize to Professor Norrish and his colleague George Porter, says: "He liked to talk things through over a glass of whisky."
We are commemorating the award of the Nobel Prize in Chemistry fifty years ago to Professor Norrish and Lord Porter (and to Lord Todd sixty years ago) in our Winter 2017 issue of Chem@Cam.
Mrs Norrish's Recipe for Mincemeat and Mince Pies
Ingredients
11/2 lbs grated apples
1 lb stoned raisins
1 lb currants
1 lb stoned dates
3/4 lb shredded beef suet
1/2 nutmeg
1 teaspoonful mixed spice
1 lb sugar (preferably light-brown demerara)
Rind and juice of one lemon (grate the rind)
Ditto one orange
1/2 lb mixed candied peel
4 oz sweet almonds
Method
Put the suet, apples & sugar into a bowl. Add stoned & chopped raisins, minced dates, currants, sultanans, chopped peel, almonds (ground or finely chopped), grated nutmeg, lemon & orange rind, strain in the lemon and orange juice & add rum. Place into jars and keep airtight.
Notes
I prefer Brandy & Whisky. This helps to keep the mincemeat longer (it will last over a year if kept airtight). Also, rum "drowns" other flavours.
I prefer less candied peel.
Suet can be bought in packets ready shredded.
Line pastry tins with short-crust or puff pastry & cover with lid of pastry after filling with mincemeat. Not too full as it is inclined to boil out and stick to tins.
These ingredients make a large quantity so you can mix 1/2 or 1/4 quantities.
It turns out that we are not the only chemists interested in the science of good food this winter. Jamie Oliver recently used what the The Royal Society of Chemistry considers to be "the most scientifically valid recipe for the perfect Yorkshire pudding" when he cooked a meal for Star Wars actor Mark Hamill. "You need the Force and the science," said Jamie on his programme. See the recipe here.